Call for new safety measures to prevent rail landslips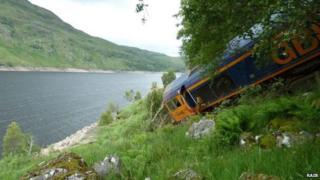 A report has called on Network Rail to implement new safety procedures after a series of landslips disrupted services last year.
The report from the Rail Accident Investigation Branch (RAIB) made several recommendations to reduce landslips on UK lines.
National Rail has already taken steps to update its method of predicting where landslips could occur.
Six landslips took place on the network between June 2012 and February 2013.
The landslips were caused by factors including heavy rain, absent and ineffective drainage on the line as well as on neighbouring land. In several instances trains were being operated without any precautions being taken to the likelihood of a landslip taking place.
Six landslips were recorded, with three having occurred in Scotland. The line areas affected by landslip were at Loch Treig, the Falls of Cruachan, Rosyth, St Bees, Bargoed and Hatfield Colliery.
Preventative measures
The report called for the firm to create a uniform response to dealing with landslips and utilise modern technology to help predict and manage the effects of weather on the line.
One of the key recommendations made in the report was to update the process for collecting weather data to help identify risk areas. At the moment risk areas are identified by judging the amount of rain which fell in the previous 24 hours.
The report called for the system to be modernised to take into account elements such as real-time information from rain-gauges, predicted rainfall and also ground saturation levels.
There was also a call for greater visual checks being made to the line by members of staff across the whole of the UK. In Scotland checks are made to "at risk" lines every two hours during extreme weather.
Adopting modern technology would also make it easier to inspect land which is hard to reach by on the ground staff.
RAIB also found that in some circumstances, key information provided by specialist staff examining the ground affected by rainfall was not properly considered when flagging up any areas which could be vulnerable to landslips.
As well as this, the report found that there had been a lack of clarity over existing procedures about identifying risks and a lack of formal response to landslips.
Research carried out for the document stated that the landslips took place on older sections of the railway which were constructed with steeper slopes than would be used with more modern building practices.
Although Network Rail is in the process of modernising many parts of it's line, the report noted that this is unlikely to completely solve this issue.
The firm has moved to address some of report's recommendations by introducing a process which also takes account of ground saturation to help predict the chance of a landslip.