What's in a Scottish place name?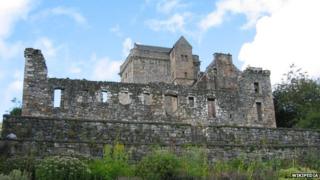 From Ecclefechan to Puddledub, some of Scotland's place names are just as memorable as its landmarks.
A new Glasgow University project is exploring how some of these places got their famous names.
Scotland's Place Names aims to provide schoolchildren with an online resource on Scotland's cultural and linguistic history.
It explains which languages various place names are from, what they might mean and the history that is attached to them.
The data behind the project is taken from the University's Scottish Toponymy in Transition (STIT) research, which is exploring the history of Scottish place names in Clackmannanshire, Kinross-shire and Menteith.
Chief researcher Dr Simon Taylor said: "Scotland is a country where many different languages have been spoken over the last 1,500 years, and its place names reflect this rich and varied history.
"What we are doing is giving teachers the tools to explore Scotland's rich heritage."
Tall tales
One of the main things the project has discovered is how the number of languages used in Scotland have left an indelible mark on how places are named.
Dr Taylor explained: "Scotland is a particularly wonderful treasure trove of place names. It's got about six different languages which have contributed to them.
"Pictish is at one end of the scale, alongside a form of Welsh which was spoken around Lanark, but place names also incorporate Scots in places like Langside.
"It's not just landscapes but past industries and storytelling which place names shine a light on."
The researchers discovered that people created stories to try to explain the place names once their original meaning had been lost.
During their study into Glasgow and its surrounding districts, academics found that Glasgow residents kept the pronunciation of Polmadie alive through a tale of Mary Queen of Scots and the Battle of Langside.
The story explains that when fleeing the battle, the Queen's horse, named Paul, collapsed and died causing Mary to say "Paul may dee, but I maun flee" (Paul may die, but I must flee).
While this is almost certainly pure fiction, is does explain how locals kept the district's name and pronunciation.
Some place names were found to have humorous origins. A good example is Puddledub, which took its name from both the English and the Scots word for a puddle.
What's in a name?
Clackmannan: A Gaelic name meaning "stone of Manau" - Manau being an ancient province straddling the Forth, including much of modern Clackmannanshire as well as east Stirlingshire, as far south as Slamannan; also Gaelic, meaning "moor or upland of Manau".
Polmadie: A Gaelic name meaning "burn (stream) of the sons of God". We only know this from a form of the name recorded about 1185 AD, Polmacde. The "sons of God" refers to members of a religious community.
Ecclefechan: The Scots village is found in Dumfries and Galloway and is known locally as Fechan. Its name is derived from the Brythonic for "small church". After Gaelic later spread in the area, the belief arose that the name derived from the 7th Century St Féchín of Fore.
Pitcairn: An old Gaelic name containing pett - "farm estate" - combined with G càrn - "cairn, prehistoric burial mound" - meaning "farm or estate of the cairn". There are several places with this name in Scotland.
Marlioun Rode: This is an example of a minor name found in an old charter of about 1570 describing a boundary between Kinnesswood and Scotlandwell on the east side of Loch Leven (Kinross-shire, now Perth and Kinross), and not far from the RSPB reserve of Vane Farm. It is a Scots name meaning "merlin path", the merlin being the smallest species of native falcon.
Pitlug: This is a well-hidden place near Fife. Its name refers to a sacred bell which was kept there. Lug is the Gaelic for bell, which suggests this was a piece of land where a bell was kept.
Auchtermuchty: The town of Auchtermuchty is believed to mean "Field of Boars". This is believed to refer to when it was used as a hunting ground by royalty who frequented the nearby Royal Palace of Falkland.