Vatican launches investigation into Cardinal Keith O'Brien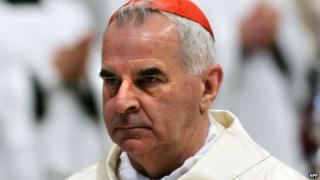 The Vatican is to investigate claims of sexual misconduct which led to the resignation of Cardinal Keith O'Brien, it has emerged.
Cardinal O'Brien resigned as Archbishop of St Andrews and Edinburgh in February 2013 following allegations of improper conduct in the 1980s.
He admitted at the time that his sexual conduct had "fallen beneath the standards" expected of him as a bishop.
The inquiry will be carried out by Maltese bishop Charles Scicluna.
He will take testimony from clergy in the archdiocese in an attempt to discover what evidence there is against the cardinal or any other clergy.
It will be the first time that such an investigation has taken place in Scotland.
The BBC's religious affairs correspondent Robert Pigott said it was very rare for the Pope to actively and publicly investigate a cardinal in this way.
Cardinal O'Brien had been instructed to spend time in repentance and reflection outside Scotland after he acknowledged that his sexual behaviour had fallen short of what was expected.
He had faced allegations of inappropriate sexual behaviour from three serving priests and a former seminarian.
His successor as Archbishop of St Andrews and Edinburgh, Leo Cushley, wrote to clergy earlier this week, urging them to co-operate with Bishop Scicluna in the inquiry.
Archbishop Cushley said: "I believe that this is a positive step towards truth and eventual reconciliation.
"This may not be an easy thing to do, but it is the right thing to do.
"In this sense I also hope that all those who wish to approach him will feel free to do so. It is important that such work be conducted in a way that protects those who wish to contribute to it."