Additional £10m lottery funding for community projects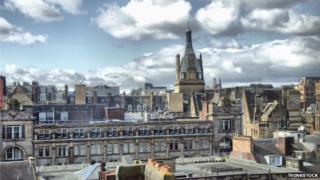 Scottish community groups are to benefit from an additional £10m in grants from the Big Lottery Fund.
A total of 59 different groups will share the funding to improve local amenities across Scotland.
The Big Lottery Fund's Community Spaces Scotland scheme will support village halls, arts and sports projects and schemes to develop unused land.
The grants, totalling £10,365,287, will help fund projects for a period of up to two years.
The Glasgow City Council district was awarded the most separate grants, with 10 different awards, including five separate grants totalling almost £1.25m.
These grants included awards for a two-year project to transform an unused piece of land in Maryhill to a community space with gardens, as well as another grant for Milnbank Housing association to rebuild a single-storey building into a new community cycle centre.
There was also another award of £250,000 to go towards the redevelopment of a derelict strip of land on the Clyde. The Govan Workspace development is expected to cost £500,000 in total, with the rest of the money coming from the city council.
The strip of land is to be turned into a pathway designed to encourage leisure activities such as walking and picnicking near the waterfront.
The Highlands local authority was given funding for eight community projects, including an award of almost £247,000 to refurbish the Reiss and Killimister community hall.
Elsewhere in Scotland, a project to regenerate a two-acre area of unused land to the rear of Auchinleck Community Resource Centre received a grant of £249,872.
'Employment opportunities'
The funding will be used to turn the site into a community vegetable garden - which will provide training, work experience and volunteering for local people through the production and sale of bedding plants, fruit, vegetables and hanging baskets.
Stephen McCarron, development manager for Auchinleck Community Development Initiative, said: "We are delighted to learn that we have been awarded £250,000 in grant funding from the Community Spaces strand of the Big Lottery Fund towards our community growing garden."
He added: "This award will not only propel Auchinleck Community Development Initiative into a new phase of development, but will provide social and economic benefits to the village and residents of Auchinleck, specifically in terms of over 20 new employment opportunities over a two year period and also an attractive new facility to be used by everyone of all ages."
Philiphaugh Community School in Selkirk received a grant of £248,750 to update and expand a neighbouring play area.
The revamped Bannerfield Play Park will feature a large all-weather multi-use games area with new play equipment as part of the "Bannerfield Active" project.
'Community spirit'
Grace Frew, the school's head teacher, said: "This is a fantastic opportunity for the whole school and the local community. The children have been very much involved and are very excited that funding has been awarded.
"It is wonderful that Big Lottery Fund Scotland's Community Spaces grant has recognised the strong community spirit in Bannerfield and everyone is looking forward to the improved facilities this funding will deliver."
Announcing the funding, Big Lottery Fund Scotland chairwoman Maureen McGinn said: "Our Community Spaces programme allows local people to get together and shape their neighbourhood by making better use of outdoor and indoor spaces.
"Today's investment allows for the development, improvement and creation of village halls, community gardens, art centres, sports and play facilities.
"For some areas, the refurbishment of a village hall will create a welcoming centre which can support a range of activities. For others, the transformation of a disused space offers a secure recreational place for everyone to enjoy."