Whisky joins the slowdown in luxury goods growth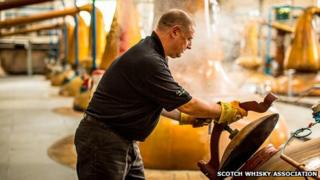 BenRiach whisky has strong distribution in Africa, where two of its three owners live.
In the Angolan capital, Luanda, oil-rich Chinese executives come through duty free sales at the airport, and when the senior guy picks up a £300 bottle of single malt, then others in his party are honour-bound to do the same.
Kerchingg.
Forgive me if you've heard me on this subject before. I learned about it while making a programme last year on the boom in Scotch whisky.
But it illustrates how premium brands have done very nicely out of the burgeoning middle class in emerging economies such as China.
Growth of 87% by value over the 10 years to 2011 was motoring even through the depths of recession. The industry remains buoyant about future prospects, laying down a lot of stock, and with huge investment in new capacity.
But the growth in sales has slowed up over the past two years.
Boosting margins
There was a pattern emerging of distillers boosting their margins by pushing premium brands, so value was rising but the volumes were not.
While value is good for profits, most of them going out of Scotland, volume is the bit that drives employment in Scotland - in bottling halls, warehousing and distribution.
That pattern has been reversed in the 2013 figures. Value has stuck at nearly £4.3bn, while volume has bounced back from a fall in 2012.
One explanation is that some of those emerging markets have slowed up. Venezuela has been hit by big economic and political problems, and its thirst for Scotch has fallen away - down 34% by value in only one year.
Economic woes in Spain, which had become a big growth market for Scotch and remains fourth biggest by volume, saw it fall in previous years.
But 2013 illustrated the changed pattern clearly - volume up 26%, but value down 3%, to £180m. The Spanish are buying more, but they're buying cheaper.
Luxury in China
The Chinese market is obviously important, as the potential is so vast. But direct exports by value don't even make the top 20 markets, and by volume, it's in 19th position.
Last year, sales were down from 23 million bottles (or equivalent) to 17 million, a 27% drop.
A lot of whisky reaches China through Singapore, which also supplies other parts of East Asia. Its volume was down slightly, at 127 million bottles, and its value was down 3% to £330m.
We've heard from individual distillers that the fall-off in the Chinese market has a lot to do with official government disapproval of conspicuous consumption, and a crackdown on the culture of business gifts, as they easily cross the line into corruption.
It's a challenge that has hit the premium and luxury goods market in quite a big way.
Chinese consumers are reckoned to account for more than quarter of the world's luxury goods, according to one industry analysis.
While the in-country market is bigger than Britain's and a bit smaller than France's, a lot of Chinese luxury buying is on trips outside the country, where taxes are lower. That creates incentives for shops in London, for instance, to be geared up for sales in Mandarin.
This growth was rapid up to around 2012. But official disapproval has seen a stalling in growth of sales for the big European luxury goods companies. The consultancy Bain & Co says growth of luxury sales in China fell from 7% in 2012 to 2% last year.
Swiss watches, for instance, are a status symbol for Chinese men, and sales there have fallen sharply.
Marketing consultancy Euromonitor International has spotted a telling trend - that gifts for men in China have fallen away, but spending on luxury goods for women has not.
Cashmere boost
Where business gifting is frowned upon, wealthy Chinese people are buying for themselves, with the most attractive brands including Hermes, Louis Vuitton, Apple, Gucci and Chanel.
That might help explain why Chanel announced this week that it will expand its cashmere and knitwear production at the Barrie plant in Hawick, which it bought out of administration in 2012.
There's also a connection to another former giant of Scottish retail. House of Fraser is being sold into Chinese hands. It's been shaken on, it seems, but the details remain sketchy.
Yuan Yafei, through his Sanpower conglomerate, already owns a chain of department stores, based in Nanjing. He says he can learn from House of Fraser's success in mixing department stores with online.
But he also hopes to import the brand into China. It might bring to the Chinese high street the chic and sophisticated status of the Fraser name (perhaps I should declare an interest in the brand, though not the store chain).
Global spread
Scotch whisky has the advantage of reaching into the luxury goods category while also being a premium import, with a price point for anyone aspiring to move up the social scale.
It's other big advantage is that, while China's enormous market and potential is impossible to ignore, the growth in Scotch in recent years has been more widely spread.
While the Chinese market growth is checked, and likewise in Venezuela, growth in Brazil and Mexico continues strongly, both up nearly 20% last year.
Despite its notorious 150% import duty, the Indian market - the world's biggest for whisky, most of it distilled in India - saw imports of Scotch up to 67 million bottles, making it the fourth biggest importer by volume.
And while some emerging markets dazzle, it's important not to forget that established markets still dominate.
The USA saw value growth of 8% to £818m of imports, with France number two but far behind on £434m.
Single malts have been marketed strongly in America. Worldwide, these now account for nearly a fifth of exports.
Specialist whiskies
Diageo, the world's biggest distiller, is also trying to innovate into specialist grain Scotch whiskies, with the launch this week of Haig Club, reviving an old brand, for which the celebrity backing of David Beckham and Simon Fuller will not have come cheap, suggesting serious intent.
The next frontier for whisky and for luxury goods looks like Africa, particularly where oil is flowing.
It's not just BenRiach that does a brisk trade at Luanda airport. The Angolan capital is also due to have its first Prada store soon, the Italian menswear fashion house Zegna is in Mozambique, while Porsche has opened up in Nigeria.