More than 50 Scottish beaches given 'excellent' rating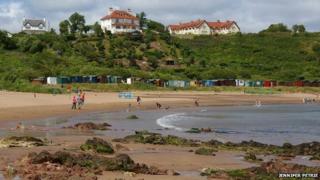 More than 50 Scottish beaches have been commended for their water quality.
A report from the Marine Conservation Society (MCS) rated 54 of 95 beaches in Scotland as having "excellent" quality water - 12 more than the previous year.
The figure - for 2013- was the highest number of Scottish beaches to meet the standard in 27 years.
All of Scotland's beaches tested met at least the minimum standard required by the agency.
MCS Scotland programme manager, Calum Duncan, said he hoped the latest figures would be a boost to Scottish tourism after several previously wet summers which led to a drop in bathing water quality.
This was due to pollution running into the sea from rural and urban areas and overloaded sewers.
He said: "It's great news that for the Commonwealth Games and Ryder Cup year we are able to recommend more beaches than ever, showing just how good water quality at Scotland's beaches can be.
"The main challenge now is maintaining these standards, whatever the weather."
He added: "Most people don't realise what a big impact the weather can have on bathing water quality, but this has really been highlighted in the last few years."
New standards
According to the Met Office, 2008, 2009 and 2012 were amongst the wettest summers on record since 1910, leading to less Scottish bathing waters meeting minimum and higher water quality.
By the end of the 2015 bathing season, all designated bathing waters must meet the new minimum "sufficient" standard due to the revised EU Bathing Water Directive.
This will be around twice as stringent as the current minimum standard and means that some beaches will need to do more to pass an inspection.
Beaches which fail to meet the new standard at the end of 2015 will have to display signs warning against bathing in the sea from the start of the bathing season the following year.
MCS recommends that bathers in Scotland should only use beaches recommended in the Good Beach Guide to maintain pressure on Scottish Water, the Scottish Environment Protection Agency (Sepa) and local councils to tackle the sources of bathing water pollution.