Scottish fish and shellfish catch value drops by 8%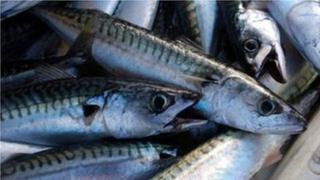 The value of fish and shellfish landed by Scottish boats dropped by 8% last year to £429m, according to new figures from Scotland's chief statistician.
However, the quantity of fish landed remained stable with 366,400 tonnes landed by Scottish vessels.
The decrease in value of fish landings in 2013 was due to a reduction in the overall price of all species types.
Mackerel is the most valuable stock to the Scottish fleet, accounting for 29% of the value of Scottish landings.
However, the value of the mackerel at quayside was down 4%, to £126m.
The key component in the drop in value across the fleet was a 10% drop in the volume of shellfish landed, driving a 13% drop in the value of the total catch to £137m.
One bright spot in the figures was the value of haddock landed, up 21% to £39m, driven by a 13% increase in the quantity caught to 35,000 tonnes.
Bertie Armstrong, chief executive of the Scottish Fishermen's Federation, said the market continued to struggle despite the economic recovery.
He said: "This alarming drop in the quayside value of seafood landed underlines the tremendous pressures faced by our fishing fleet.
"Scottish seafood is renowned around the world for its high quality, provenance and sustainability, yet despite signs of global economic recovery, it would seem that the market for our fish and shellfish is showing little sign of improving.
"This is causing a double whammy of hardship for our fishermen as the poor market situation is set against the background of ever-increasing operational costs for the fishing fleet."
Scottish Fisheries Secretary Richard Lochhead said: "These figures show a strong performance by the Scottish fishing industry with a slight increase in landings in what was a challenging year and a welcome increase in the number of fishermen for the first time since 2008.
"Mackerel was once again our most valuable stock worth £126m in landings. Strong international supplies of some of our more popular species, like cod, put pressure on prices for whitefish and our prawn fleet had a challenging year with unusually poor catches although the signs for the 2014 fishery are more encouraging.
"Our pelagic fleet can of course look forward to substantially increased quotas for mackerel in 2014 following the recent international agreement."
In 2013 Scotland's active fishing fleet comprised 2,026 vessels, employing 4,992 fishermen - a 5% increase from 2012 and the first rise in employment since 2008.