Highlands and Islands power cut investigation continues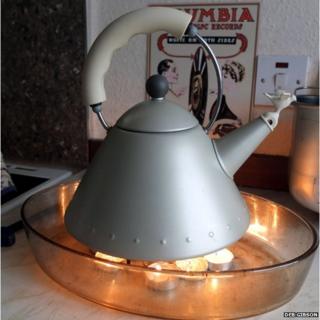 Engineers are still trying to establish what caused a power cut which blacked out most of northern Scotland.
Scottish and Southern Energy believes the outage, which struck on Wednesday evening, may have started with a fault on a line between Moray and Inverness.
More than 200,000 properties were affected at the height of the disruption but electricity has now been restored to all homes.
Among the areas affected were Fort William, Moray, Caithness and Orkney.
The Western Isles and Skye were also hit by the outage, which started at about 20:30 on Wednesday.
Street and traffic lights cut out across towns and villages causing some safety concerns but the emergency services said the blackout appeared to be incident free.
NHS Highland said all of its back-up generators kicked in and there was no disruption in its hospitals or threat to patient care.
Some rail services to and from Inverness were delayed.
Flavia Patterson, a spokeswoman for Scottish and Southern Energy Power Distribution (SSEPD), told BBC Radio's Good Morning Scotland programme: "It looks to us like the fault occurred between Moray and south of Inverness so that's the area we're concentrating on.
"We're looking at whether there was weather-related damage or whether there was some kind of debris - whether something physically affected the infrastructure."
The company said it had narrowed the investigation down to an area of overhead transmission line of about 55 miles between Blackhillock and Knocknagael.
A helicopter has been patrolling the line with the support of ground crews. As yet, no visible damage or signs of the fault have been identified.
On Thursday afternoon, SSEPD told a second meeting of the Scottish Government Resilience Committee (SGoRR), which is activated in the event of widespread or complex emergencies, that the fault was transient (non-damaging to the lines) as the system came back on line with no issues.
Such faults can be caused by foreign objects striking the lines such as debris in windy weather, lightning strike, pollution or equipment failures, it said.
Questions have been asked about how one fault could knock out so much of the country. Engineers say that to ensure quick recovery from a significant event large parts of the network can shut down to protect the infrastructure.
An SSEPD spokesman said: "We would like to apologise to our affected customers and thank them for their patience while we restored power to their homes.
"We communicated with our customers during this rare outage and worked closely with National Grid and the Scottish government throughout.
"Our network contingency procedures worked effectively and our teams reacted quickly, this resulted in the majority of homes in Inverness being affected for under one hour, with the last home being restored within three hours in Caithness."
The spokesman added: "Last night our top priority was to restore power quickly and safely. Since then our teams continue to work on the technical analysis required to identify the cause of this highly unusual fault."
The Highlands and Islands Local Resilience Partnership (HILRP) said "in the region of" 205,000 homes were affected at the peak of the disruption.
HILRP said the power company informed it that all power had been restored by 00:30.