Power cut in Highlands and Islands due to 'transient fault'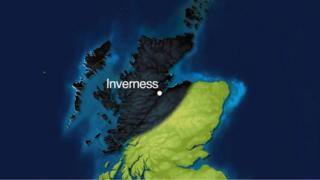 The mass power outage which affected more than 200,000 homes across the Highlands and Islands was caused by a "transient fault", according to the Scottish government.
Scottish and Southern Energy Power Distribution (SSEPD) used a helicopter to visually inspect 55 miles of power lines between Moray and Inverness.
But it found "no visible damage or signs of the fault".
It concluded the outage was caused by a "foreign object" striking the line.
This could have been debris in windy weather, a lightning strike, pollution or equipment failure, it said.
SSEPD updated First Minister Alex Salmond at a meeting of the Scottish Government Resilience Committee on Thursday afternoon.
A Scottish government spokesman said: "SSEPD informed the first minister that the fault was transient, ie non-damaging to the lines, as the system came back on line with no issues.
"Such faults can be caused by foreign objects striking the lines such as debris in windy weather, lightning strike, pollution or equipment failures."
The first minister praised "the hard work of all involved in getting the power back on last night, including those keeping customers informed", the spokesman said.
Power was restored to more than 200,000 homes after a blackout which began at about 20:30 on Wednesday affected about a third of the country.
By 22:30 on the same evening, 95,000 customers were without power and this dropped to 25,000 by 23:00.
By half past midnight power was fully restored to all customers across the region, SSEPD said.
Among the areas affected were Fort William, Moray, Caithness, Orkney, the Western Isles and Skye.
Street and traffic lights cut out across towns and villages causing some safety concerns but the emergency services said the blackout appeared to have been incident free.
Earlier on Thursday, Flavia Patterson, a spokeswoman for Scottish and Southern Energy Power Distribution (SSEPD), told BBC Radio's Good Morning Scotland programme: "It looks to us like the fault occurred between Moray and south of Inverness so that's the area we're concentrating on.
"We're looking at whether there was weather-related damage or whether there was some kind of debris - whether something physically affected the infrastructure."
The company said it had narrowed the investigation down to an area of overhead transmission line of about 55 miles between Blackhillock and Knocknagael.