World War One: The dubious reputation of Maconochie's stew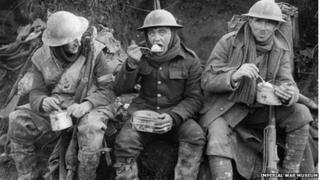 Maconochie's stew was a household name during World War One. The tinned "meat and vegetable rations" were welcomed by some troops but others described them as a "man-killer". They also had an unfortunate side-effect.
Brothers Archibald and James Maconochie were actually from Lowestoft in Suffolk but they saw a gap in the market and moved to Aberdeenshire to set up a fish canning business in the port of Fraserburgh.
Soon they were world leaders in the canning of fish and saw an opportunity to branch out to produce different types of meals and preserves including a famous Pan Yan pickle and the infamous Maconochie's stew.
The company won a huge contract to supply the British Army with a stew during the Boer War and, more than a decade later, at the outbreak of World War One, the contract was still in place.
So Maconochie's stew was again the M&V (meat and veg) ration universally used by the troops.
The cans proclaimed the contents contained the "finest beef", potatoes, haricot beans, carrots and onions.
But one account from the time described it as "a tinned ration consisting of sliced vegetables chiefly turnips and carrots in a deal of thin soup or gravy".
"Warmed in the tin, Maconochie's was edible. Cold it was a man-killer," the account is said to have claimed.
The directions on the can stated "contents may be eaten hot or cold" and that the unopened can should be heated in boiling water for 30 minutes.
This was a pretty ridiculous recommendation under most frontline circumstances.
When hot, Maconochie was described in letters and reports as anything from barely palatable to good.
But eaten cold, as it all too often was, it was a different story.
Alan Bowman, a volunteer at the Fraserburgh Heritage Centre, told World War One at Home: "The contents included quite a lot of animal fat which would congeal if cold.
"It was not easy to heat meals. On the whole it tended to be eaten cold."
The accumulation of a lump of fat on top of barely recognizable chunks of meat and vegetables led one reporter to describe Maconochie as "an inferior grade of garbage".
"There were some who would have said you needed a medal to eat a Maconochie, it was so vile," Mr Bowman says.
Barbara Buchan, from Fraserburgh Heritage Centre, says there are some records in its archive that show a more positive response to the tinned ration.
She says: "There is a letter from the local paper in which a soldier had written home and said a German prisoner had enjoyed his Maconochie's meal of meat and haricot beans."
So maybe if you were hungry enough, it was tolerable.
Apart from its "vile" taste there was one other unfortunate quality possessed by the Maconochie's stew.
Some versions contained turnips and when combined with the beans it had an unfortunate and smelly side-effect.
In his book, Hell in the Holy Land: World War one in the Middle East, David R Woodward writes of a soldier called Calcutt, a private serving in the Middle East, who says: "One of the features of the night marches was the frightful stink.
"The Maconochie's stew ration gave the troops flatulence of a particularly offensive nature.
"So we marched along on air released by hundreds of men breaking wind."