Plans aims to increase the use of film in teaching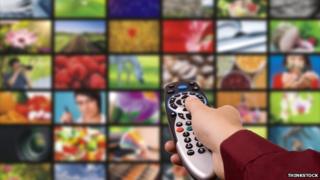 An ambitious scheme to encourage more teachers to use the medium of film in the classroom has been launched.
The Into Film Scotland programme aims to find ways of using films and film-making across the curriculum.
One part of the scheme will allow state schools to set up film clubs, allowing free access to thousands of films.
The scheme has been backed by both schools and film organisations such as the British Film Institute and Education Scotland.
Its supporters - including actor Ewan McGregor - argue film could be used by teachers in several ways.
The scheme goes far beyond the idea of simply showing an "educational film" to a class or asking English students to watch a film based on a novel they were studying. It aims to help teachers find ways of using films and film-making to bring lessons to life and help students develop a range of skills across the curriculum.
For example, a drama might illustrate a social or historical issue while learning about screenwriting or film-making could help a youngster's creativity or communication skills.
Another part of the scheme highlights how films could be used by teachers to help students learn about the culture and identity of Commonwealth countries ahead of the Commonwealth Games.
'Power to inspire'
The chief executive of Into Film, Paul Reeve said: "Film is the richest of educational resources: because of its extraordinary production values in which art, science and technology meet, its synthesis of art forms that tell compelling stories, and the enormous historic, literary, geographic, linguistic, cultural and social value and relevance these stories embody, which speak across age, class, gender and background."
Director Kevin Macdonald added: "As a nation of ancient storytellers I feel it's really important we pass on this tradition in a modern way to the children and young people growing up in Scotland today. Film is so beneficial, it has the power to inspire, connect and expand our understanding of each other and the world around us.
"I'm really proud to be part of the film industry here in Scotland. It's so important that we nurture and educate the upcoming generation of talented young filmmakers so they understand and embrace all the opportunities that are available for them right here on their doorstep."
Some of the key points of the wide-ranging scheme include free resources for schools covering a range of subjects, themes and events; provisions to allow teachers to use film as a learning tool; and the chance for all state schools to have a free film club.
From this film club, students and teachers could have access to a selection of thousands of films to watch, discuss and review.
'Successful learners'
The proposed scheme has also received positive support from a number of schools.
Michael Crawford from Cardinal Newman High School in Bellshill said their film club had undoubtedly benefited students.
He said: "From developing IT skills by navigating the website, writing reviews to be read by other members and engaging with themes highlighted in the films like bullying - to clearing up after a screening and interviewing filmmakers at the Edinburgh Film Festival, this initiative is helping pupils to become successful learners, confident individuals, effective contributors and responsible citizens."
Elaine Cox from St Ninians High School in Giffnock said: "Discussing films and writing reviews has increased the confidence and literacy skills of various individuals. Voicing opinions on various films - whether orally or in written form - clearly helps develop pupils' communication skills and confidence."
She added: "The beauty of our film club is that each and every pupil, regardless of academic ability, is able to contribute meaningfully during this time."