Who speaks for Scottish business?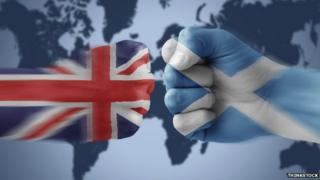 The distinction between lobbying and political campaigning can be a fine line.
The Confederation of British Industry hasn't just stepped over it. In doing so, it's tripped over itself, and fallen on its face.
Its registration with the Electoral Commission as a campaign combatant may have looked like a simple bit of box-ticking to comply with all that legislated red tape about which business organisations often complain.
But its reverse ferret nine days later, asking to "nullify" that registration with the Electoral Commission, has shown that electoral and referendum law includes some red tape that's turned out to be very sticky and unpleasant.
Even the announcement of it went wrong, when the CBI briefly put the headline on its website, and a news agency spotted it.
When the story first broke, I was told the advice had been that a simple registration would ensure the CBI kept on the right side of the law.
Early each September, the CBI has a very large and glitzy dinner in Glasgow, at which it can routinely call on a big name from the UK cabinet.
Would David Cameron, George Osborne or Nick Clegg want to be in that company, attired in a penguin suit, two weeks out from the referendum? That was already dubious, and it's just become more so.
However, what if the Electoral Commission ruled a pro-union speech had been made, and that that dinner should therefore be classed as a campaign event? The expenditure might have been far in excess of the £10,000 limit for non-registered people or organisations.
How would the Electoral Commission know? Well, as the CBI has found out, it's got a tormentor that would have been more than happy to report it to the Electoral Commission.
Triumphant
Business for Scotland, campaigning for a 'yes' vote and not easily distinguishable from the 'Yes Scotland' campaign, was pushing for the CBI to register.
It was triumphant when it saw the CBI had done so. It's even more triumphant now the CBI has announced it's doing a U-turn, with particular delight that its bid to 'nullify' that registration may not even be possible.
The 'yes' side is pushing at a new front, which is an interpretation of the electoral law which requires company directors to get approval from shareholders if they're making political donations.
The law doesn't make clear that a CBI membership fee would be such a political donation, but it's unclear enough at least to give lawyers something to chew over.
So it's been a difficult week, understates John Cridland, the CBI's director general. He told me that he hadn't known about the referendum registration until the BBC reported it. And while sorting his position legally, he's had members leaving or seeking suspensions.
Paying dues
The BBC is among those members, and that's raised questions about whether it's right for an impartial broadcaster to appear aligned to a business lobby group, even without this controversy about referendum campaign registration.
The corporation's reasoning is that it has a prominent role in Britain's creative industries, and the CBI is the right place to advance that.
Unhelpfully for the CBI, this row has got others questioning the value of those subscriptions as much as the risk of losing political neutrality.
That said, the Confederation insists that it's continuing to ask those questions of the independence proposition; on cost, currency, European market access and cross-border regulation.
It hasn't ceased being deeply sceptical about independence. And for all those companies where bosses wish to be neutral and to keep clear of this bruising constitutional debate, there are those who see the value in their membership sub as letting the CBI take the flak for being awkward and mixing it with politicians of all hues.
Being neutral in public doesn't mean they're neutral in private.
Head count
Having faced questions about the scale of its membership, an update of the CBI membership count has been brought forward to coincide with this Scottish referendum reversal.
The CBI is now saying it represents 190,000 businesses, employing nearly 7m people, or around a third of the private sector. It's a network which includes 140 other trade associations.
And in Scotland? It doesn't say how many Scottish-headquartered companies are members. (Business for Scotland says it's not many at all.) But what it will say is that it represents 1200 members that are registered and operating in Scotland, and together they have 500,000 employees.
'No Borders'
You can (and they will) argue about whether that qualifies the CBI to be so involved in this campaign. Other representative organisations. such as the Institute of Directors and Scottish Financial Enterprise. have been asking similar questions, but dodged the flak coming the CBI's way.
There are organisations where membership is split, so they won't take a position; the Federation of Small Businesses and the Chambers of Commerce, for instance.
One business organisation that might have been expected to be supportive of independence, given its strengths in SNP heartlands, is the Scottish Fishermen's Federation. But it recently issued the Scottish government with some rather sceptical questions of its own about independence.
Business for Scotland says it's got more than 1700 individuals signed up as members, though it's a long way from having them all named on its website.
And what about business organisations clearly aligned with the 'no' side? Alongside the CBI, you can find something called the 'No Borders Campaign', registered on March 19 at a newly-refurbished multiple office address in Edinburgh's Charlotte Square. The Yes Scotland campaign doesn't know who's behind this, but it's eager to find out.
We're also waiting to hear more about an organisation called 'Business Together'. It's being set up by the 'no' side of the independence campaign, but rather slowly. Launching from now on, it will take a lot to get the necessary momentum.
Cross-border trading
The conclusion - forgive me if this is too obvious - is that there are different voices from business. To generalise (and there are clearly exceptions to this), it looks like the 'yes' support is largely coming from smaller businesses, and typically ones that trade only in Scotland.
Some entrepreneurs are attracted to the cause as well, expecting to get a more business-friendly regime in Edinburgh.
Big business, trading across Britain, and particularly in sectors which are heavily regulated - in finance, for instance - tends towards seeing new costs, including the cost of uncertainty. As some are publicly quoted on the stock exchange, their public reporting role requires them to list the risks they face. Several of them have included Scottish independence on that risk register.
At the level of big multinational businesses, it seems there's rather less concern, because they already deal with numerous tax regimes and regulators. One more doesn't seem such a big challenge from that perspective.
A footnote to this debacle for the CBI is its implications for a potential referendum on European membership. The Confederation is one of several business groups with members who strongly support the UK's place in the EU.
As John Cridland admitted to me, this is a new law on political registration and donations. The CBI has tripped over it. It'll think much more carefully before it chooses how to engage with that European debate.