£8m in cash and assets seized from Scottish criminals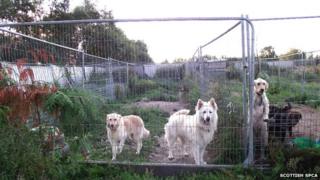 Assets worth £8m have been seized from criminals over the past year.
Proceeds of crime actions and civil measures have seen the cash recovered from criminals who profited from drug dealing, human trafficking and fraud.
The total figure is down from £12m the previous year.
However prosecutors hailed a "marked increase" in the use of civil recovery methods, and also focus on new crimes including animal cruelty and environmental offences.
In total, assets worth £3.6m were recovered through the courts in the year running from 2013 to 2014, while a further £4.4m was recovered using civil methods.
Solicitor General Lesley Thomson QC said the Proceeds of Crime Act (Poca) had caused "serious disruption" to criminals operating in Scotland.
She said: "Those who attempt to build up criminal business are finding that we can wreck their ventures by ending their funding streams and their hopes of living off the profits of their crimes.
"By targeting the revenue stream of those involved in illegal activity, we deprive them of the opportunity to build up criminal empires and in doing so we help to make Scotland a safer place."
Confiscation orders
Among the cases dealt with last year was that of Kwai Fun Li, a Bishopbriggs businesswoman who was ordered to hand over £700,000 in cash and assets.
The 46-year-old was initially fined £6,000 for employing illegal immigrants at her Chinese restaurants between December 2009 and May 2010.
Proceeds of crime legislation, however, means that those people convicted of "criminal lifestyle" offending must account for their unexplained income for six years before their arrest.
Li's finances were scrutinised by a team of law enforcement financial analysts and Crown forensic accountants, who concluded that she had benefited from her general criminal conduct to the sum of £1,064,094.
A confiscation order for £722,956 was lodged against her, covering all her assets including jewellery, cash and property.
Prosecutors also raised their first confiscation order in an animal cruelty case, against a man jailed for mistreating puppies.
Charles Swan, a 68, from Stirling, was jailed last March for eight months after admitting keeping the dogs in squalid conditions on his farm.
He was estimated to have made more than £12,000 from his criminal conduct, but was eventually ordered to pay just £1 at Falkirk Sheriff Court when he was found to have no money to pay the larger amount.
However the confiscation order gives the Crown the right to seize any future assets, up to the amount Swan benefitted from his offence.
'Double whammy'
A Borders scrap metal firm became the first in Scotland to be given a confiscation order over an environmental offence.
David Cochrane (Duns) Ltd was fined £53,000 in June for illegally keeping and treating waste for 14 years and for failing to clear up waste materials after being ordered to by the Scottish Environment Protection Agency.
A confiscation order for £41,000 had already been filed against the firm when they were fined.
And last month Mohammed Riaz, who was jailed last year for dealing heroin in Edinburgh, was ordered to pay more than £200,000 under Proceeds of Crime legislation.
A total of 280 civil recovery disclosure notices were served between April 2013 and the end of March this year, up from 195 the previous year.
In addition, there were 166 criminal confiscation orders awarded in 2013/14 compared to 149 the previous year.
Ms Thomson added: "The combination of an increase in both disruption and confiscation orders is a double whammy for criminals operating in Scotland.
"Hundreds of them have felt the full force of Poca over the last year and it has destroyed their lifestyles and their activities."