Warning over sunbeds as melanoma cases increase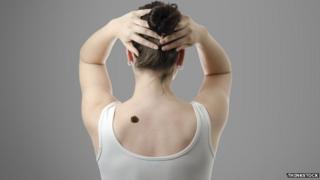 People in Scotland have been urged to avoid using sunbeds as melanoma cases continue to increase, according to a report.
Official statistics for Scotland showed that cases of skin cancer have increased by 37% over the past decade.
Data also showed that the total of all cancer diagnoses has risen by around 3,700 over a ten-year period to 30,450.
The Scottish government said that while cancer numbers are up, survival rates have also increased.
Dr Aileen Keel, Scotland's Acting Chief Medical Officer, said: "These figures are yet another stark warning of the dangers of unsafe tanning - either in the sun or using sunbeds.
"The increase in the number of people being diagnosed with melanoma may in part be down to better awareness and improved diagnosis, but there is no doubt that unsafe tanning remains a big issue, particularly among the young.
She added: "Towards the end of last year we undertook a further awareness raising campaign on the link between sunbed use and an increased risk of skin cancer."
Better awareness
The most common cancers for both sexes remain lung, breast and bowel cancers. In total they make up almost 50% of the cancers diagnosed in Scotland.
The report also showed that cases of malignant melanoma increased more than any of the ten most common cancers in the decade up to 2012.
Increased foreign travel, use of sunbeds and better awareness, improved diagnoses are all thought to be likely contributing factors to the increase.
Cabinet Secretary for Health and Wellbeing Alex Neil said: "It is important to note that while cases of cancer have risen, survival rates are up, this means more people are now living longer after diagnosis.
"Trends and scientific evidence suggest that lifestyle factors such as smoking, poor diet, low physical activity, obesity and excess alcohol consumption can all increase a person's risk of getting cancer."
He added: "That's why the Scottish government is implementing a wide-ranging programme of action to encourage healthy lifestyle choices, for example, through leading work to bring down smoking rates and our action plan to combat Scotland's obesity epidemic."