Tim Stead house in Lauder may open to public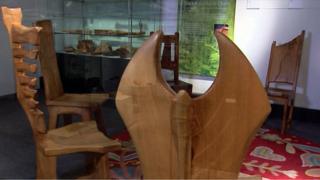 Plans to open the family home of artist and designer Tim Stead have taken a step forward.
Family and friends are in talks with Scottish Borders Council and the Princes Regeneration Trust to establish a trust.
It would then acquire his home near Lauder and eventually open it to the public.
Tim - who came to Scotland to study at Glasgow School of Art - used the house as his drawing board.
The 16th century farmhouse in Blainslie became home to his family in 1980.
He refurbished the interior and created all the furniture and fittings out of local wood.
One of the most prolific designers in Scotland, his public commissions included furniture for the Glasgow restaurant Cafe Gandolfi, the Millennium Clock (in collaboration with Sharmanka) and the Papal Throne for the visit of Pope John Paul II to Edinburgh in 1982.
Although he died in 2000, interest in his work has remained constant. A new touring exhibition - which includes over a hundred works - attempts to showcase his art as much as the furniture for which he's best known.
It includes a number of "excavations" - wood carvings he made in his final months - which haven't been seen in public. Visitors are encouraged to examine them with small torches, and find the small pieces of wood hidden in their crevices.
The exhibition - Object Maker and Seed Sower - takes its title from Tim Stead's own description of himself.
He described his own work as "sculptures with legs", and he worried audiences were put off when they were labelled as artworks.
His widow, Maggy Stead Lenert, said his mantra was that anything he made should be comfortable, useful, practical but visually stimulating.
Their home is the perfect example of that mantra, with almost everything the eye can see, made from local wood. From the fireplace, to a seven foot grandfather clock, the staircase, the four poster beds, even the bathroom sink.
"He did want to make a wooden bath," says Maggy, "but that just wasn't practical. And his attempts to make a clothes horse also failed. It was just too heavy to lift. It took two people. It was just too heavy."
With their children grown, Maggy is keen to move on but she believes the house is the best legacy of her husband's work.
"People already visit. Students and schoolchildren. They come in and they're just overwhelmed by this extraordinary work. I always say it must be a minimalist's nightmare but it's a very, very special place."
Tim Stead: Object Maker and Seed Sower is on at Low Parks Museum, 129 Muir Street, Hamilton until 31 May; Iona Gallery, Kingussie, 7 June - 12 July; Perth Museum and Art Gallery, 16 Jan - 30 April 2015; Barony craft centre, West Kilbride 23 May - 2 August 2015.