Benign neglect: National 5 English exam question prompts Twitter reaction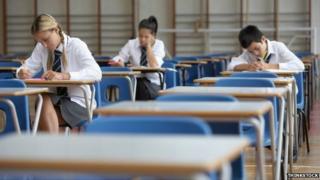 Are exams dumbing down? A tough question in the new National 5 English exam certainly provoked a reaction.
In a world of social media, inevitably candidates can be quick to share their views on exam questions. And one question in the National 5 English exam on Wednesday certainly brought a reaction.
They were asked to explain the use of the term "benign neglect" within a passage and say why it was surprising.
The question was clearly one some candidates regarded as a stinker. Hundreds took to Twitter expressing exasperation though, as they were limited in the number of characters they could use, the exact words and sentences they used may not always have impressed English examiners.
One said on Twitter: "Every fourth year in Scotland's most hated words right now are 'benign neglect'."
Another said: "Think it's safe to say at least half of Scotland failed the 'benign neglect' question in the English exam."
One witty pupil tweeted: "Tried to tell my mum about my exam and she walked away from me #BenignNeglect."
In a world where critics might claim exams are becoming too easy, the suggestion a question was too hard may have gladdened the hearts of those who want to see young people stretched intellectually.
'Wee bit unfair'
One English teacher told BBC Scotland: "The question's certainly on the harder side, but it's not unacceptably hard.
"Most candidates should get one mark out of three for understanding neglect, but since they won't get the mark for benign they'll also be unable to get the mark for explaining why the expression is surprising - which is maybe a wee bit unfair.
"The Twitter reaction is understandable, but the Credit paper for Standard Grade last year asked about 'martyred gurgling' which was much, much worse. I couldn't figure out what the answer was meant to be when I looked at it."
The online Collins Dictionary gives this definition of the use of benign neglect.: "(formal, pejorative) If you describe someone's approach to a problem as one of benign neglect, you disapprove of the fact that they are doing nothing and hoping that the problem will solve itself."
The new National 5 qualifications - equivalent to a credit pass in a Standard Grade or a good pass in an old O Grade - will be under intense scrutiny in the coming months.
The first exams took place on Tuesday. The results are due out on 5 August.
The Scottish government and the Scottish Qualifications Authority (SQA) are confident the administration of the exams will go smoothly.
Over the past year though, teaching unions expressed concern over issues such as stress and bureaucracy associated with the courses - but stressed their members were working flat out to make them a success.
In general terms, the SQA has a quality assurance process for exam papers.