The Scot who came second to Celine Dion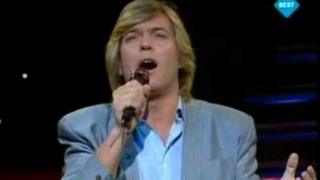 The last Scot to represent the UK at the Eurovision Song Contest was Scott Fitzgerald, who came within a point of beating Celine Dion to the title in 1988.
In the six decades since the Eurovision song contest began there have only been a handful of Scots representing the UK and by a strange coincidence two of them played together as children in the east end of Glasgow.
On of them, Marie Lawrie grew up to be Lulu, one of Scotland's most famous singers, who won Eurovision in 1969 with Boom Bang-a-Bang.
Almost 20 years later wee Billy McPhail, who says he used to play with Lulu in a tenement back court, represented the UK under his stage name Scott Fitzgerald.
In a rare interview, 66-year-old Fitzgerald told the BBC Scotland news website: "Her uncle, I think it was, used to live next door so she was there all the time with her mother. We used to play shops round the back by the middens.
"I was in love with her when I was wee boy but she never showed me any attention."
Fitzgerald says he had a "wonderful east end" childhood before hitting the Glasgow music scene of the mid-1960s, playing gigs along with the likes of Frankie Miller and John Mayall's Bluesbreakers.
After touring the UK in the musical Hair at the beginning of the 70s he almost made it as a glam rock star when he appeared in the film Never Too Young To Rock with bands such as Mud, the Glitter Band and Slik, which featured fellow Scot Midge Ure.
In 1977 Fitzgerald and Dutch singer Yvonne Keeley had a massive international hit with If I Had Words.
The song sent Fitzgerald around the world to perform in places such as a Zambia and South Africa, as well as appearing in the high-end big-theatre restaurants of London's west end.
A decade later when he represented the UK in the Eurovision Song Contest in Ireland, he had just turned 40.
His song Go was written by Julie Forsyth, daughter of veteran entertainer Sir Bruce Forsyth.
She had been in the 1970s pop group Guys and Dolls with Fitzgerald's best friend Dominic.
It was Forsyth's idea to enter the song for Eurovision and it was one of eight tunes which battled it out in the Song for Europe contest to choose the UK entry.
For the first time since 1975, the public voted on the songs, although this time it was by telephone voting instead of postcards.
Fitzgerald won comfortably and he was off to Dublin.
"For me it was a dream place to be," he says.
"The stage was incredible. I had a beautiful big 70-piece symphony orchestra and a really good song. For an artist I thought I was in heaven."
With just two of the 21 countries to vote, Fitzgerald was 14 points ahead of Switzerland's entry, sung by a certain Miss Dion.
"I was so close I could taste it," he says.
"The stage manager at Eurovision came to me and said 'when you win it, it is going to be mayhem, so watch out for me because I've got to take you back stage so you can collect the award and you can sing the song again'.
"That was just as the voting started on the last two votes.
"I said to him 'you'd better hold on there's another couple of votes'."
He was right. Fitzgerald lost by a single point in one of the closest contests ever.
"I can laugh about it now," he says.
"I have no animosity or anything like that. I never did.
"I'm a professional singer. You just get on with it.
"After Celine Dion won I went over to her and gave her a big hug and kiss and said 'congratulations, darling'."
Straight after the contest, Fitzgerald went to perform pre-booked dates in Scandinavia and the hype around Eurovision quickly faded away.
For many years it was his big hit record which sustained his career, it certainly made him a lot more money.
"It made me comfortable and looked after my children," he says.
One of his children - Ki McPhail - has carried on the family tradition. He was one of the original members of boy band Busted and now works in music management.
Born-again
Fitzgerald's Eurovision experience was all but forgotten until he recently decided to embrace his past and performed at a number of party nights to celebrate the contest.
He says: "I have only recently come out of the closet as a born-again Eurovision artist."
A few weeks ago he performed at London's Cafe de Paris to a crowd of Eurovision nuts.
"It was fantastic. I felt like a superstar," he says.
"When I walked out the roof nearly came down. I thought it was amazing.
"All these years I've been trying to achieve this and I walk in and sing one song and there it is."
Fitzgerald, who lives in the south of England, says he has never really talked to anybody about Eurovision for years.
"I don't think they even know I exist in Scotland. I have not done a show in Scotland since 1971."
He says he would love to perform in his home country, particularly if it were related to a cancer charity, as both his wife and himself have been affected by it.
"My wife got breast cancer and I stopped working for five years and looked after her, because she's the most important thing in my life," he says.
"The funny thing is, after she got the all-clear, the week after that, I was diagnosed with cancer.
"But I'm recovering. I'm fine."
So fine, in fact, that he has one last ambition.
He says: "It was wonderful to be representing the United Kingdom but I'm looking forward to representing my country one day. Alex Salmond, give me a call."