John Smith Centre to open at Glasgow University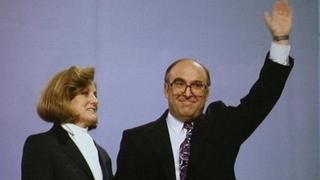 A new centre promoting public service is to be created at the University of Glasgow, in memory of the late Labour leader John Smith.
The John Smith Centre for Public Service, which has been announced on the 20th anniversary of his death, will open at the end of the year.
It will be based at the university where the former advocate studied and where he became involved in politics.
Its focus includes providing research into the value of public service.
It also aims to raise the reputation of public service, as well as attracting young people to contribute to public life.
Mr Smith and his wife, Elizabeth, met at the university, where he studied history in the 1950s, and then law in the early 60s.
A bust of his image is located in Glasgow University Union, where he debated.
Baroness Smith said the new centre would be a fitting tribute to her husband's life and work.
She said: "The night before he died, John gave a speech at a Labour Party gala dinner in London, concluding with the words: 'The opportunity to serve our country - that is all we ask.'
"It is that single phrase that encapsulates a lifetime of seeking to help others through efforts in public service.
"I am sure if he was still with us today it would trouble John greatly to find public life held in so low esteem.
"Given all he stood for, I believe John's life can still serve as an inspiration to a future generation who at present may not see the value of such work."
Support for the centre has come from across the political spectrum.
First Minister Alex Salmond said: "I held John Smith in the very highest of regard and I think the Centre for Public Service is both a fitting tribute and timely initiative.
"The Scottish government looks forward to co-operating with its work."
Labour leader Ed Miliband said: "John Smith was a man of great decency and deep integrity.
"His unshakeable commitment to public service was rooted in his Labour values and his deep desire to improve the lives of people across the country."
Mr Miliband said his predecessor's legacy lives on in the implementation of changes he campaigned for, including the minimum wage and the creation of the Scottish Parliament.
'Profound impact'
"On the occasions I met and spoke to John, I vividly remember his commitment to the less fortunate in society - he always said that we should never walk by on the other side while others were suffering," he said.
"John knew the difference that politics and public service could make."
Professor Anton Muscatelli, the university's principal and vice-chancellor, said: "As a university we are delighted to be part of an initiative for which we think we are the perfect home.
"John Smith was one of our most distinguished alumni. His influence and impact were, and are, profound.
"It is clear that we now live in an age of crisis and renewal. We should focus on the opportunities for renewal and creating the institutions and ideals that can drive improvement across society.
"The John Smith Centre for Public Service will be a suitable vehicle to deliver on these aims."
The centre will soon begin the process of recruiting a director to oversee its work and to secure funding for its research programme for 2015.