Ewan Morrison: King of the swingers is happy to settle down
Ewan Morrison has in the past been called a "purveyor of erudite filth". The award-winning Scottish novelist admits he used to live a life as "extreme" as the characters in his books but he claims he is finally trying to live in the "normal world".
Morrison is a hugely successful author who has written four much-lauded novels as well as other critically acclaimed works such as last year's Tales From a Mall, but he says he finds it very hard to believe that people like or appreciate him.
He says: "I find it so hard to accept that in the last few years I have given up alcohol and put myself in therapy because I have to grapple with my belonging in the normal world. I find it upsetting that I'm here and I'm doing well."
'Incapacitating stutter'
Now 46, Morrison puts his inability to fit in down to his childhood in Caithness, where his hippy parents struggled to live the Utopian cultural life they had fled to the far north to build.
His father David was the local librarian and ran the Wick festival of poetry, folk and jazz which attracted cultural giants such as Norman MacCaig and Iain Crichton Smith but often failed to find audiences to match.
"My father hit the bottle when he realised the festival would not work. It was this big 60s dream, one that ruined our family economics," Morrison says.
"Watching your parents fail is pretty crushing."
In his 30s, he says, he had to deal with "severe anger and rage" against his "irresponsible" parents who tried to live outside the real world but abandoned their son to deal with the bullies from the tough working-class town who made his life a misery.
Morrison told BBC Scotland's Stark Talk: "I had an incapacitating stutter where I could not say my own name from the age of about nine to 13.
"I was systematically bullied for about three or four years to the point where I gave in and just accepted it would be a daily phenomena."
Morrison says he was kicked in the head, forced to eat dirt, stripped and on one occasion he remembers having to stand with his mouth open while the bullies attempted to spit into it from a distance.
He says he used to long for the day when the nearby Dounreay nuclear power station would blow up and the entire community would be destroyed.
The teenage Morrison found some kind of relief in making figures from modelling clay.
"On a bad day I would literally crush a Plasticine model and kill someone," he says.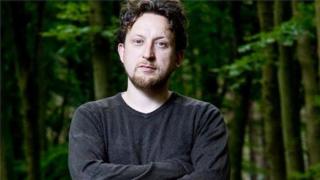 His self-confidence grew through his talent for art and he went on to Glasgow School of Art, which he says was "a wonderful place for freaks".
He was a good artist but too impatient, always moving on to the next thing like a "butterfly".
At first he was a portrait painter, then changed to photography and he graduated making art documentaries.
One of his novels, Menage, sees his protagonists learning how to express their art.
Morrison says: "One of the pieces in the book was my actual graduation piece where I slapped about a good friend of mine.
"He's now a really successful artist living in Finland by the name of Charles Sanderson and he sat still for an hour while I slapped him and my friends kissed him and that became a portrait."
Love triangle
Menage, as the name suggests, features a love triangle, and it is not only Morrison novel in which explicit sex is a feature.
It was his first book, a collection of short stories called The Last Book That You Read, which had him dubbed a "Scottish purveyor erudite filth" by Arena magazine.
A couple of years later his first novel, Swung, told of the swinging scene in Glasgow, a lifestyle choice with multiple sex partners, into which Morrison delved after his marriage broke down.
He says he "cracked up" in New York at the turn of the millennium when a film project he had been working on for two years collapsed.
His "dangerous, alcohol-fuelled behaviour" resulted in him losing his wife, his two children and his home.
"I went nuts," says Morrison.
"I had so much resting on wanting to make this film in America to show that I could stand on my own two feet, put all my past behind me, almost start again in another world.
"When all that fell through I was stuck back in Scotland. I felt I was stuck in this place I had so desperately wanted to escape from."
Back in Glasgow, he turned to writing and in order to get material for his books, he lived "more extremely" than he would have done other wise, examining the swinging scene by spending a "year in perverse".
"I think most people who are involved in swinging are troubled," he says.
Happy-ending
However, in its defence he says swinging "demystifies" the rituals around sex and crosses cultural and class boundaries.
In 2006 when he met his future wife, Swung was still in draft form and he gave it to her to read.
He says his now-wife, who was a lesbian for 10 years, was not really afraid of the content.
"If anything I think she might have thought it was too bourgeois and heterosexual, " he says.
Morrison's 2008 novel Distance tells of two people clinging on to a long-distance relationship.
The male character Tom is unstable, volatile, suicidal, needy, feels inadequate, and he is an alcoholic.
"All my characters are a bit of me but pushed to limits so there was part of me that was all those things," Morrison says.
"I probably made the mistake of digging as darkly as I could into the rot inside myself for that book."
Like the characters in Distance, Morrison and his American wife Emily conducted a long-distance relationship for two years before she eventually moved to the UK.
Morrison says it has resulted in a happy-ending which he could not have dared to write in his novel.
So, is Morrison finally happy?
He says: "I used to wonder why I hated Henri Matisse when I was in art school and I think it was because Matisse was happy.
"I think I would like to be a bit more like Matisse in future, more calm and self-assured and to create things which are not just about being screwed up."
Stark Talk is on BBC Radio Scotland on Tuesday 20 May at 13:30.