Joseph Lee: Dundee's forgotten war poet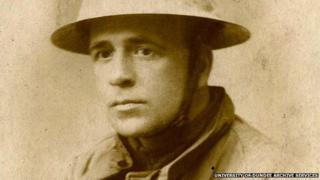 Joseph Lee's poetry was once ranked alongside those of famous World War One poets Wilfred Owen and Siegfried Sassoon but the Dundee writer and artist has fallen out of the public consciousness.
When WW1 broke out, Joseph Lee was almost 40 years old and suffered from asthma but he enlisted in the 4th battalion of the Black Watch and went to fight in France.
He had worked as a journalist on the Dundee Advertiser and the People's Journal as well as producing and illustrating his own newspapers and magazines.
His creative output while on the Western Front was huge and he sent many poems and sketches from the trenches back to Scotland.
Two volumes of war poems and sketches, Ballads of Battle and Work-a-Day Warriors, were published while he was still fighting on the front line and he was hailed among the finest poets of the period.
His poems attracted critical acclaim as far afield as America.
Lee was taken captive by the German army in 1917 but he continued to write and sketch while a prisoner-of-war.
And after he was released publishers were eager to put his war diaries into print.
However, his reputation has since faded, to the point where his name his rarely known.
The Bullet, 1916
By Joseph Lee
Every bullet has its billet
Many bullets more than one:
God! Perhaps I killed a mother When I killed a mother's son.
An edition of his collected poems has been published by Dundee University, which is trying to get his reputation restored.
The university's deputy archivist Caroline Brown says there are a number of reasons why his work fell into obscurity after the war.
"One of the things is that he wasn't an anti-war poet," Ms Brown says.
"He was a people's poet in that he wrote poems about what he saw, just like an artist would sketch what they see, and perhaps that's not the kind of poetry people wanted to remember just after the war."
"Also he was writing for his own pleasure and he was writing to remember the people that he had fought with."
Lee, a Dundonian who had left school at 14, was not part of the literary establishment and this could be one of the reasons why he was left out of later anthologies of WW1 poetry.
After the war Lee married a well-known young viola player and set up home in London where he worked as a sub-editor on the News Chronicle.
He also studied for a time at the Slade School of Art.
Ms Brown says: "When he came back from the war, the thing he liked doing most was being an artist and he moved to London and he carried on sketching and worked as a journalist.
"I think he just wasn't particularly interested in carrying on writing poetry."
She says his poems may have been a way of escaping the horrors of the trenches.
Ms Brown says: "The poems are a mixture between writing about the amusing things that happen, the camaraderie among the soldiers in the trenches, but also talking about how difficult it was and some of the horrors that he had seen."
Matthew Jarron, museum curator at the University of Dundee, says Lee was living in Airlie Place, near the university, when the war started.
"He was a well-known journalist at the time. In fact he was editor of the People's Journal which was one of the best-selling papers in the country. So he had become quite a well-known journalist in the town.
Mr Jarron adds: "Dundee at that time was quite a centre of culture.
"There were a lot of artists and writers based here and he was part of a network because he worked for the local papers.
"There were lots of other journalists and they all enlisted in the war together, they all went out to the war together."
Lee lived in London for two decades but returned to Dundee in 1944, following his retirement. He died there five years later.
Mr Jarron says: "I think he felt that really strong drive to come back here, and although he lived in London for some years after the war, he was determined to come back and spend his last days here."
The Mother - published in Ballads of Battle, 1916.
My mother rose from her grave last night, And bent above my bed, And laid a warm kiss on my lips, A cool hand on my head;
And, "Come to me, and come to me, My bonnie boy, " she said.
And when they found him at the dawn, His brow with blood defiled, And gently laid him in the earth, They wondered that he smiled.