Hospital infections still 'significant threat' to patients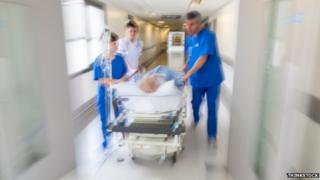 Progress has stalled on reducing the number of hospital acquired infections, health experts have said.
A report by Health Protection Scotland (HPS) has warned that, while levels of bugs like c-diff have been falling, improvements have levelled off since 2012
The report recommended changes are made in strategy to make care safer.
A national scheme to monitor how often medical staff washed their hands was scrapped last year.
While figures in the HPS 2013 Healthcare Associated Infection Annual Report detailed a decrease in figures of Clostridium difficile (CDI) in patients aged over 65, the number of infections from the disease recorded in patients aged 15 - 64 remained steady.
The number of recorded incidents of Staphylococcus also did not improve across 2013.
In addition, the report noted that a worldwide trend of bacteria becoming immune to antibiotics continued.
Strategy change
Prof Jacqui Reilly, HPS Lead Consultant in Healthcare Associated Infection (HAI), said that changes in hospital policy were needed to improve care and also to reduce the amount of money spent in fighting the infection.
She said: "While significant declines in HAI rates in Scotland have been seen over the last decade, the levelling trend this year for selected HAIs indicates that changes in strategy are required to ensure we continue to make care safer in Scotland.
"A study carried out in 2013 estimated the inpatient cost of HAI in NHS acute care hospitals to be £137m."
She added: "This excludes the costs of those infections occurring outside hospitals and highlights that the prevention of HAI in all healthcare settings is of paramount importance."
Prof Reilly also commented that a manual which aimed to help train NHS staff in infection protection as well as how to minimise the risk of cross-infections had been published in April of this year.