Norway shuns UK offshore helicopter safety rule changes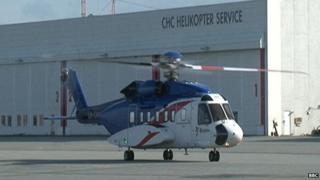 Authorities in Norway have criticised some of the changes to the UK's offshore helicopter industry which are being introduced this week.
The Norwegian Civil Aviation Authority (NCAA) said it has no plans to duplicate the 32 safety improvements planned for Scottish offshore helicopters.
The Scandinavian country has not seen a serious helicopter crash since 1998.
Over the same period there have been five crashes in UK waters.
Since a helicopter crash last year off Shetland, in which four people died, UK aviation authorities have been looking to improve safety.
The Civil Aviation Authority (CAA) published a report which contained 32 improvements.
But the NCAA is not planning to replicate any of them.
Roy Erling Furre, second deputy leader with the Safe Union which represents oil workers, said: "I think people would be more worried about working in the UK sector.
"It's the safety level, both for in the helicopter and offshore."
Geir Hamre, NCAA head of helicopter safety, believes some changes, like restricting seat numbers, might actually compromise safety.
He said: "That will mean that we need to fly earlier in the morning and later at night, which is something we don't like when we have the kind of weather we have and darkness.
"We want as little flying at night as possible."
The CAA said it hopes night flying can be avoided altogether because of other changes being introduced.
One of those modifications includes replacing what is effectively a bag, where the passenger of a ditched helicopter re-breathes their own air, with a pressurised can of oxygen attached to their suits.
Mr Hamre added: "You never like to have pressurised systems in a helicopter that you don't control.
"Because it's pressurised, it can cause accidents if it explodes or its not treated the right way."
'Find common solutions'
The safety report has not been wholly criticised by the Norwegians though. with some claims it represents a move towards the Norwegian model.
Andreas Saetre, from the Norwegian pilots union (Nalpa), said: "There are some good points in this report and we would definitely look into it in the next meetings and debate it but we need to evaluate them to make sure that they have the desired outcome."
A "tripartite" forum for discussing safety, involving the companies, unions and the regulator, is being replicated back home.
It is the backbone of the safety culture in Norway but unions have more powers and the framework for the forums are grounded in the law.
Prof Ole Andreas Engen, from the University of Stavanger, said: "One of the things that I think works fairly well is the tripartite system where you can negotiate and find common solutions you agree upon.
"I think that is a tremendous and powerful instrument in order to improve safety."