Scottish independence: Lego dropped from Treasury 'Buzzfeed'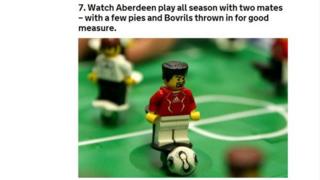 Toy maker Lego has forced the UK government to stop using its characters to illustrate a campaign against Scottish independence.
The Treasury has removed a series of images of Lego from a "Buzzfeed style" item on its website.
Lego asked not to be associated with the campaign because it is "politically neutral", while the SNP described the list as "patronising".
A government source had said it was a "good humorous way of making a point".
The list suggests 12 ways in which Scots could spend the £1,400 which the Treasury says they benefit from as UK citizens.
Among the suggestions is: "Watch Aberdeen play all season with two mates - with a few pies and Bovrils thrown in for good measure."
The site also suggests: "Share a meal of fish and chips with your family every day for around 10 weeks, with a couple of portions of mushy peas thrown in."
The document originally appeared on a Community page of the Buzzfeed website, created by a UK government account.
SNP Treasury spokesman Stewart Hosie said the list was based on "bogus figures" and said the UK government's estimates on the start-up costs of independence had already been discredited.
In a statement, Lego said it would not have given permission for any of its images to be used.
A spokeswoman for the toy manufacturer said: "We are a children's toy company and therefore all of our communication is targeted towards children.
"People all over the world use Lego to depict stories and scenarios - some of it not to our knowledge. We maintain our position of being a politically neutral company."