Blythe Duff wins critics' award for second year in a row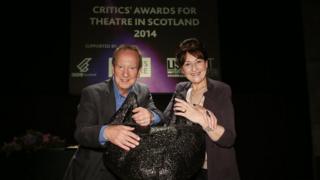 Actress Blythe Duff has scooped best female performance at the Critics' Awards for Theatre in Scotland (Cats).
The actress, best known for her role in Taggart, won for the second year running for her portrayal of a deceased Glasgow gangster's daughter in Ciara.
The children's festival Imaginate was presented with the Cats Whiskers award for its work over the past 25 years.
The first ever Billy award, named after actor Billy McColl - who died earlier this year, went to Jessica Hardwick.
The Cats awards have been handed out annually by the nation's theatre critics for a decade.
The ceremony was held in Glasgow's Citizens Theatre - where its co-production of Crime and Punishment won four awards, including best director for Dominic Hill.
Joyce McMillan, Cats co-convenor, said: "This year has once again seen some magnificent theatre produced in Scotland, from work created specially for children and young people, to innovative versions of classic texts and ground-breaking new plays."
2014 WINNERS
BEST MALE PERFORMANCE: Adam Best (Raskolnikov) in Crime and Punishment
BEST FEMALE PERFORMANCE: Blythe Duff (Ciara) in Ciara
BEST ENSEMBLE: Crime and Punishment
BEST DIRECTOR: Dominic Hill for Crime and Punishment
BEST DESIGN: Paul Bright's Confessions of a Justified Sinner
BEST MUSIC AND SOUND: The Beautiful Cosmos of Ivor Cutler
BEST TECHNICAL PRESENTATION Dragon
BEST PRODUCTION FOR CHILDREN AND YOUNG PEOPLE: Huff, produced by Catherine Wheels Theatre Company
BEST NEW PLAY: David Harrower for Ciara
BEST PRODUCTION: Crime and Punishment