GPs 'need more support' to treat mental health issues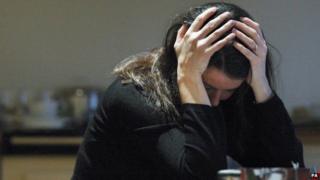 GPs in Scotland want more support to help them treat people with mental health issues, according to a charity.
A survey by the Scottish Association for Mental Health (SAMH) found 85% of GPs felt there was a lack of local support for patients.
Most doctors questioned also wanted to see more alternatives to prescription drugs used to treat mental illness.
Just over one in five of the GPs surveyed had had training for treating mental health in the past six months.
The research forms part of SAMH's "Know Where to Go" campaign, which aims to help people deal with mental health issues.
'Inspiring initiatives'
Billy Watson, SAMH chief executive, said: "Further investment in local GP services for people with mental health problems is seriously needed to ensure there are a greater number of positive choices available to support their mental health and well-being.
"Every day SAMH sees the real benefits for people who engage with activities such as peer support, self-management, talking therapies, therapeutic horticulture and sport/physical activity, either alongside or instead of a prescription.
He added: "There are some inspiring initiatives already running and a key recommendation of our report is to make sure more GPs know about them."
Almost a third of all GP appointments in Scotland currently relate to mental health, according to the Royal College of General Practitioners (RCGP) Scotland, which is backing the SAMH campaign.
The RCGP Scotland has called for training for GPs to be extended to five years in order to give them a wider level of training across a broader range of treatment options.
More than 400 GPs responded to the SAMH survey, with representatives of all Scotland's health boards taking part.
RCGP Scotland chair elect, Dr Miles Mack, said: "This survey attracted a tremendous response from GPs right across Scotland, demonstrating the importance of this issue to our members.
"We see large numbers of patients for whom mental health problems form part of a complex health scenario.
"It is vital that general practice is resourced adequately to ensure that all patients receive the services they need."
Scotland's health secretary, Alex Neil, defended the Scottish government's record on investment in health but admitted that doctor's still needed more funding.
Speaking on BBC's Radio Scotland's Good Morning Scotland, he said: "We are spending twice as much of mental health services as a share of our budget as the World Health Organisation recommends, so mental health services are no longer the Cinderella services."
He also stressed the average waiting time for more specialist help with mental health difficulties was now eight weeks, which is "way down on the months people used to have to wait before 2007".
He added: "We're making substantial progress in reducing the waiting time from the GP until people see a consultant."
Increased investment
But Mr Neil said GPs were not always "entirely aware of all the services there are locally" to help those with mental health problems.
The minister also said that work was underway to develop a new database which would list all of the available treatments available for doctors to help patients with mental health problems.
But he stated: "I do absolutely accept we need to put more money into GPs and that's why this year I have instructed every territorial health board in Scotland to give me evidence they are putting substantially more resources into primary care and I'm monitoring that on a quarterly basis."
"There's a whole range of initiatives going on but I do accept the fundamental point we need to put more resources into GP practices."