Scottish independence: Put your referendum questions to Ruth Davidson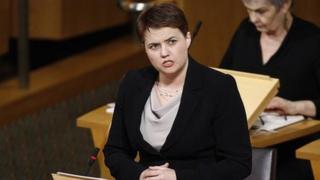 The latest in our series of independence referendum webcasts will see leader of the Scottish Conservatives Ruth Davidson answering your questions.
The BBC's Isabel Fraser will be quizzing the pro-union campaigner on her vision for the future of Scotland.
Ms Davidson recently unveiled The Strathclyde Commission report, outlining what further devolved powers the Conservative Party would offer Scotland in the event of a "No" vote in September's referendum.
These included giving the Scottish government control over income tax and establishing an independent Scottish Fiscal Commission, while keeping tax-free personal allowance an issue reserved for Westminster.
Ms Davidson has argued that if Scotland is to get more powers over income tax it must become more accountable for the money spent by MSPs.
She has also proposed that Holyrood committees be chaired by opposition MSPs as part of a stronger system of "checks and balances" in the Scottish Parliament.
If you have something to ask Ms Davidson email newsonlinescotland@bbc.co.uk
Please put "Referendum questions" in the message field of your email.
Scotland's electorate will go to the polls on Thursday, 18 September, to vote in the independence referendum.
They will be asked the Yes/No question: "Should Scotland be an independent country?"
The interview with Ms Davidson will be published on BBC Scotland's news website.