Poor children 'don't get a fair chance at school'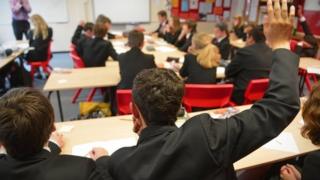 Many young Scots believe poverty prevents children from having a fair chance at school and affects their opportunities, a survey suggests.
The costs of "free" education - from text books to uniforms and class trips - are seen to hamper performance.
Children in low income homes also feel penalised by lack of home technology.
Nearly 1,000 secondary school pupils took part in the survey for Save the Children and Scotland's commissioner for children and young people.
Education was considered an essential factor to being successful in life, with 88% of those surveyed agreeing.
The survey also found that while young people thought poverty should not make a difference to learning and education in Scotland, a majority believed it was a factor.
More than 80% thought growing up in a family without a lot of money made a difference to the resources a young person has at home.
The Learning Lessons report will be launched in Edinburgh on Friday at an event attended by Education Secretary Mike Russell.
Working hours
Neil Mathers, of Save the Children, said: ""Scotland's education system needs to ensure the poorest pupils aren't penalised and, instead, are given every opportunity to fulfil their potential.
"If we don't take further steps to reduce the impact of poverty on children's learning, we will continue to fail some of our most vulnerable young people and limit their opportunities.
"We want policy makers and school leaders to listen and act."
Children surveyed said family relationships and support were crucial to their development.
But many cited parents' long working hours and a lack of quiet space to do homework as negative factors.
Tam Baillie, Scotland's commissioner for children and young people, said: ""There is very little research that tells us what young people themselves think and know about growing up in families living on low incomes.
"This report aims to plug that gap by setting out the views and voices of young people on how poverty can impact on education, both in and out of school.
"It raises some important issues for policy makers and politicians to consider how they can better support those young people who feel the impact of poverty on their education and daily lives."
The Scottish Government said it was committed to reducing child poverty and narrowing the attainment gap.