Councils charging terminally ill for care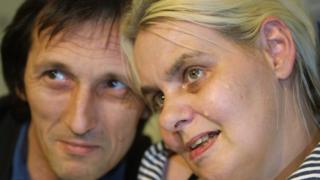 Some Scottish councils are charging terminally ill people for personal care when they should get it for free, according to the charity Motor Neurone Disease Scotland.
One council - East Ayrshire - will only waive the charge if someone is expected to live for less than four weeks.
Personal care is free to anyone aged over 65 who is assessed as needing it.
The Scottish government said terminally ill people should not be charged for care.
East Ayrshire Council said that while it had "every sympathy" for terminally ill people requiring personal care it believed any charges should be based on specific care need for individuals.
Free personal care can include a range of assistance from bathing and showering to catheter/stoma care or help with preparing food.
About 130 people in Scotland are diagnosed with MND each year.
Because of its poor prognosis, fewer than 400 people have the illness at any one time.
People diagnosed with Motor Neurone Disease live for an average of just 14 months, and often quickly lose the ability to walk, speak, feed themselves and breathe unaided.
But charity MND Scotland said too many of them were being charged for their personal care needs.
No clear policy
Some councils, such as the Western Isles and West Lothian, have no clear policy on when to charge, according to the charity.
Cosla said it believed that local charging policies should not be applied to people with terminal illnesses and would work closely with local health boards to provide a better, integrated service across all health boards.
Cllr Peter Johnston, Cosla's health and well-being spokesman, said: "Councils will work with their NHS partners at the local level to identify at what point a person is considered to be terminally ill, and this will vary from person-to-person and between different conditions."
He added: "As we move forward with health and social care integration, local authorities and health boards will be working together to improve the supports available to individuals and their families in the end stages of life."
MND Scotland said some local authorities would waive charges if a person had a letter or DS1500 form from their doctor.
Other local authorities may not accept a doctor's letter or DS1500 and choose to keep it a "grey area", allowing for "discretion".
These include Argyll and Bute, Glasgow, Dundee, North Lanarkshire, Orkney and West Dunbartonshire.
'Assessed need'
According to MND Scotland, East Ayrshire charges unless the person receiving care can prove they have less than four weeks to live.
Eddie Fraser, director of health and social care at East Ayrshire council, said: "Whilst we have every sympathy for people with such a medical situation, we believe that East Ayrshire Council Charging Framework is being applied in a fair, equitable and consistent manner and is in line with the principles contained within the National Guidance for Non Residential Social Work Services.
"Social Care Services are based on assessed need, and not on the basis of a person's specific medical condition.
"Charges are based on a financial assessment which identifies the amount of accessible weekly income to be used for charging purposes. No service user is left in financial hardship as a result of any charge applied."
MND Scotland is calling on councils to follow Cosla's guidance and is urging the Scottish government to update legislation to force them to provide free personal care for the terminally ill.
A Scottish government spokeswoman said: "The Scottish government is clear that people who are terminally ill should not be charged for their care.
"We are working closely with Cosla's charging guidance group to ensure that this is the case for everyone in Scotland and that there is consistency across all local authorities.
"We want to ensure that everyone who requires care, has access to the highest standards of care in every setting, their own home or a care home.
"That is why we are integrating health and social care to provide a more responsive and joined-up service for all those who require care."