Scottish independence: What Canada thinks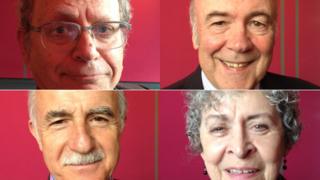 As the independence referendum draws nearer, international interest in the future of Scotland and the UK is growing.
As well as global figures, from President Obama to the Pope, making contributions to the debate, many in the Scottish diaspora are also watching closely.
That is especially true in Canada where approximately one in seven people claim to have Scottish heritage.
On a recent assignment to Vancouver, I took the opportunity to discuss the referendum with Canadians with Scottish connections.
"Scotland's profile has certainly received a fillip over the past 6-12 months," said public relations consultant Darren Hutchison, who promotes business links between Scotland and British Columbia on Canada's west coast.
He believes the profile the referendum is giving Scotland internationally offers the country a "distinct advantage" whichever way the vote goes.
Dr Laurie Anderson of Simon Fraser University is also hopeful that the independence debate will be "good for Scotland" no matter what the outcome is.
"All of this is good because it reviews the relationship between Scotland and the rest of the UK," he said.
Canada has experienced two referendums on independence for the French-speaking province of Quebec in 1980 and 1995.
"We're overshadowed and informed by the Quebec experience and the trials and tribulations of Quebec nationalism" said lawyer David Lunny, who is originally from Greenock.
It "plays a big role in forming even the views of the Scottish diaspora people here," he said.
However, Alma Lee, who emigrated from Edinburgh in the 1960s, does not believe there is "any comparison" between Scotland and Quebec.
"Quebec is not a country, whereas Scotland is" she said. "It's already a country with its own culture and its own sense of self."
The conversation is to be broadcast in a special programme on BBC Radio Scotland on Monday at 13:30 called What Canada Thinks.