Glasgow 2014: Warning over accommodation scams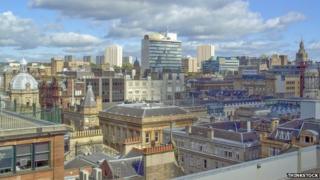 Visitors to the Commonwealth Games in Glasgow have been urged to ensure they do not become victims of online accommodation scams.
BBC Scotland has learned of fake companies, using agents such as Expedia, to dupe customers into booking non-existent apartments.
Police Scotland are investigating a number of bogus accommodation firms who have taken money from customers.
They said anyone with concerns or suspicions should report them.
James Hodge secured tickets in the public ballot for the Commonwealth Games and set about booking accommodation.
The BBC financial analyst thought he had found a great deal with a company called Yankee Apartments, advertised on Expedia.
"I booked accommodation for the Commonwealth games in Glasgow, confirmation came through, they took my money, seemed fine," he said.
"Then next thing I know I get a cancellation email, but they've still taken my money, in fact they've taken more money than I agreed. I can't contact the accommodation to see what's gone on, and I tried to contact Expedia."
Yankee Apartments does not actually exist. It lists its address as Lancefield Quay, an apartment block on the banks of the Clyde. But when the BBC asked security officers about Yankee apartments they said they had never heard of them.
The bogus company is being investigated by police.
A spokesman for Expedia said: "We deeply regret any distress or inconvenience that the Yankee Apartments incident may have caused our customers.
"We take such issues very seriously and can confirm that we have contacted all customers who booked rooms at the Yankee Apartments with Expedia, to inform them and offer our assistance through a prioritised customer service line.
"Following this initial email, our customer service team is also calling all affected customers to help them to find and rebook alternative accommodation, at our cost."
He added: "We are fully committed to helping the authorities with their investigations."
And it would seem that Yankee apartments is not the only phantom accommodation company advertising on the internet.
Kyle Apartments, a company claiming to offer serviced apartments in Glasgow city centre, is listed as being at 48 West George Street. It turned out to be an office block next to Queen Street Station.
The BBC spoke to the people listed in Companies House as the directors of both Yankee and Kyle apartments.
Both said they were the victims of identity theft - and that their personal details had been used to set up a fake accommodation site. They are helping the police with their investigations.
The National Fraud Intelligence Bureau reported 4,500 cases of accommodation fraud during the Olympics.
Head of KPMG's forensics team for Scotland, Ken Milliken, said: "Fraud is becoming increasingly sophisticated. Fraudsters are going to make use of technology that's there for their own ends.
"If they can get access to information online to make it look like they are representing a valid company, almost a phantom of that company then they'll use that information, set up a website that looks like the real thing and it's very easy to get duped by that. "
The travel industry has estimated that fraudulent bookings cost the consumer £1.5m a year.
Ronnie MacPhee, Scottish chair of ABTA, said: "Big events like the commonwealth games and the Ryder cup are always big attractions for people to come to visit and the opportunity is there for fraudsters to put up sites that look good but in effect are complete scams."
Police Scotland said it was taking the issue of accommodation scams very seriously.
A spokesman added: "Unfortunately some criminals will try to exploit visitors by advertising bogus properties for rent and we would ask you take care when arranging accommodation, particularly online.
"If you are in any doubt, or have any concerns or suspicions about a property do not book and do not give out any payment information."