Spending on Scottish schools fails to keep up with inflation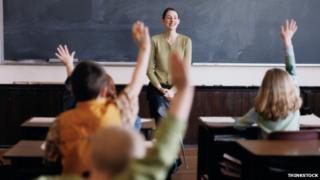 Most councils in Scotland have cut spending on education in real terms, according to a major report.
The public spending watchdog says nearly every local authority failed to increase its education budget enough to cover the effects of inflation.
The report from the Accounts Commission says spending on education fell 5% in real terms between 2011 and 2013.
Councils decide how much to spend on their schools although the biggest factor - pay - is set nationally.
This is the first time the commission has produced a report on council education spending and school performance across Scotland.
It says the cuts in education spending mirrored wider cuts in council spending.
The report also highlights the performance of schools in economically deprived parts of the country.
In 19 of the 32 council areas, the gap between the best and worst performing schools increased between 2004 and 2013.
Tailor resources
The report suggests that levels of deprivation alone, or the amount being spent by councils, do not explain the differences in how well students and schools perform.
It says: "Levels of deprivation have a large influence on attainment.
"Some schools have achieved better attainment results than their levels of deprivation would indicate, suggesting the gap between the lowest and highest performing schools cannot be wholly linked to different levels of deprivation."
The councils which have made the biggest improvements cutting the impact of deprivation on education have focused on areas such as developing leadership skills, improving teacher quality, increasing parental engagement and better tracking of each pupil's performance.
Commission chairman Douglas Sinclair said: "Councils need to fully understand what interventions are the most effective and tailor resources to meet their local needs.
"It is vital that councils close the gap between the lowest and highest performing pupils.
"There is no single solution for improving educational attainment and many of the factors are linked."
He added: "There are many other skills that children need to succeed in life.
"As the report makes clear, there is a need for councils to understand broader educational performance and look beyond current exams."
Increased workload
Overall, councils' spending on school education fell by 5% in real terms between 2010/11 and 2012/13 to £3.8bn.
Most of this reduction was as a result of employing fewer staff.
The biggest cut was in Clackmannanshire - 14% after inflation - while in two areas spending actually rose slightly in real terms.
Education budgets will continue to face pressures in the future.
The report says councils need to be alert to the potential impact of increased workload on their remaining staff.
EIS general secretary Larry Flanagan said: "There is a substantial additional workload impact on teachers as a result of reduced budgets and declining staff numbers.
"This can have long-term repercussions for increased sickness absence and low staff morale."
Cosla spokesman Douglas Chapman said there were "encouraging findings" in the report.
He added: "The report notably outlines that attainment levels in our schools have improved over the last ten years against all ten attainment measures examined.
"However, improving attainment is a complex issue and there is little direct connection between the cost of education per child and the outcomes achieved."
Jackie Brock from Children in Scotland, who was a member of the report's advisory group, said: "Despite considerable efforts, reducing the attainment gap in Scotland still needs to be a priority.
"We must do everything we can to ensure the best start in life for all of Scotland's children."