Poverty Commission calls for end to zero hours contracts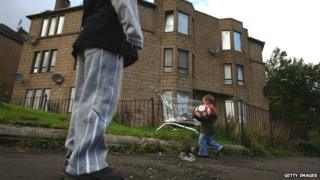 A church-backed commission on poverty in Scotland has called for an end to zero hours contracts and a commitment to the living wage.
The Poverty Truth Commission suggested a number practical solutions following a two-year investigation.
The initiative brought together policy makers, politicians and ordinary people facing problems such as low wages or high fuel costs.
It is backed by the Church of Scotland and Faith in Community Scotland.
The commission's other proposals included:
setting up a not-for-profit energy company
urging landlords to cut fuel bills through better insulation
asking energy companies to provide more choice and value for low income customers
raising awareness of the way sanctions imposed on benefit claimants "break their spirits"
challenging the "myth" that work is always a route out of poverty
giving to foodbanks alongside developing more sustainable food strategies
involving those affected by poverty in policy-making.
Earlier this month a study by the Joseph Rowntree Foundation suggested that one in seven working-age adults and children could still be living in poverty by the mid-2020s, despite rising employment.
Poverty Truth Commission secretary Martin Johnstone said: "It is increasingly clear that work is not the route out of poverty that many claim it is.
"Work that is low paid, inflexible and where people don't know how many hours they are working from day to day does not help people live more fulfilled lives.
"Too often we are finding it is having exactly the opposite effect.
"Through our work with the Poverty Truth Commission, we have regularly come across people who want to work but cannot find any, alongside others who are required to work such long hours that they have little or no time to spend with their families."