Glasgow 2014: Final touches for Triathlon at Strathclyde Park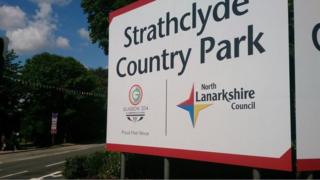 At Strathclyde Country Park in Motherwell, it is obvious something is about to happen.
The dog-walkers, runners and cyclists follow their usual circular route around the man-made loch. The new wooden adventure play park is heaving with families taking advantage of the unusual Scottish combination of school holidays and summer sunshine.
But the park is also a frenzy of colour and activity - there's even a slight sense of urgency - as the final preparations are put in place for the Commonwealth Games.
Strathclyde Park is a satellite venue for Glasgow 2014 and will host the Triathlon events on Thursday 24 and Saturday 26 July.
"The park looks great. You can tell that people are getting excited and both the town and the park seems a lot busier than usual," says local resident Lara Noble as she and her friend walk her dog.
"I think it is an exciting opportunity for the area," she added. "It's good that it's international, so there's going to be a lot of people here and I think and whole community is getting behind it."
Flags at the main entrance to the park proclaim "Motherwell Welcomes the Games" and the road through is lined with bright Glasgow 2014 bunting.
The foundations for the security fencing are in place and tents and temporary tiered seating have sprung up in front of the Watersports Centre.
Teams of workmen in high-vis vests rake new stones along the pathways and the smell of freshly laid wood-chip hangs in the air.
Organisers have been working closely with North Lanarkshire Council to get the venue ready for the Games.
"Strathclyde Park is an ideal venue for the 2014 triathlon events, both for the athletes and spectators as well as the thousands of visitors expected on the two days of competition," says Paul Jukes, executive director of regeneration and environmental services for the council.
"We want to deliver a first-class facility."
The preparations don't come without some inconvenience for park users.
Some car parks have been closed and temporary traffic lights are in place. Members at the Boathouse gym, beside the Watersports Centre, where the main spectator area will be, have had to take their fitness regime elsewhere as it has had to shut-up shop for a month.
But the biggest hurdle to overcome for those preparing for the Games has been mother nature - in the form of a toxic blue-green algae.
Previous watersport events at the park have had to be cancelled because of a risk to swimmers from harmful levels of bacteria.
So, ahead of the Games, a floating barrier system was installed to effectively create a protected, clean water area.
Calum McPhail, from the Scottish Environment Protection Agency (SEPA), explains: "We identified that one of the ways of breaking the potential pollution pathway was to build this multiple floating barrier system that protects a segregated swim area.
"There is a spare set of barriers ready to be dropped, so it's a double protection system.
"The big risk factor has been after periods of very heavy rain, when you know that the main part of the loch does have elevated levels of sewage and rural-derived faecal indicators, which are bacteria.
"We know that can still happen, but when we do testing on both parts of the loch, the inside part of the protected swim area has been very high quality, so we know that the barrier is working."
A walk around the loch does reveal that the blue-green algae hasn't gone away - it gathers and floats in large clumps - some very close to the protective barrier.
However, Glasgow 2014, the council and Sepa insist their ongoing weekly monitoring is showing safe levels of water quality and the continued spraying of Phoslock, a non-toxic phosphorous reducing chemical, is working.
And those brave enough to have already taken the plunge are testament to that.
"I thought the water might still be manky, but it was very clean and you could really feel that when you were swimming," says Clare McMurray, from Motherwell, who took part in a recent Vigour open-water swimming event at the park.
"It was great, well-organised, safe and really well staffed," she added.
"It is fantastic to have an outdoor swimming pool on your doorstep. Long may it continue."
That's a view echoed by many of the ordinary park users. They want to see the improvements made ahead of the Games carried on.
"I've been coming here since it was the Clyde pond," said cyclist Iain Patton, from Motherwell.
"I watched it getting built and, over the years, it's blossomed. You come down here any night of the week - there's football teams training, army-style boot-camp, cyclists, and walkers. I think the Games will increase it's popularity, but I hope there's also a legacy for users.
"Thing like these barriers - are they going to remain or is it going to go back to a situation where the people can't swim in it? Surely there must be some way in the long run to keep it clear?"
North Lanarkshire Council says the barriers will not be remaining after the Games, but the lessons have been learned that "will be of great help in the future".
And park users seem happy with some of the other more permanent changes.
"As soon as they've all gone, I've got this as my training ground," says local runner and cyclist Philip Davies.
"The paths have been widened, there's a new hill and they've resurfaced some of the road surface. It's great. Once they've gone, it's all mine."