BMA chief Dr Brian Keighley warning over survival of Scottish NHS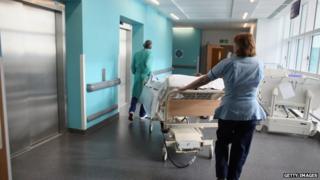 The outgoing chairman of the British Medical Association in Scotland has warned that tough decisions need to be made if the NHS is going to survive.
Dr Brian Keighley will tell the association's annual conference that it is time for all politicians to face up to some "hard questions".
He said it was impossible to "squeeze more and more" from the same resources.
Scotland's Health Secretary Alex Neil said the NHS was one Scotland's great success stories.
He added: "This country can be rightly proud of the care it delivers, day in and day out, to thousands of people across Scotland.
"Satisfaction with our NHS has increased by 20% over the last seven years and nearly two thirds of people in Scotland now claim to be satisfied with our health service. That is testament to the incredible work of all our staff in the NHS."
'Car crash'
Dr Keighley was due to address delegates at the BMA's gathering in Harrogate.
Ahead of that speech, he said that he was thankful to see that Scotland had "avoided" the "wholesale reorganisation" that had taken place in England.
But he added: "However, in Scotland, as elsewhere, what we have not avoided is a financial crisis and resource constraint that sits totally at odds with rising patient demand, an ageing population, advancing technology and burgeoning costs of pharmaceutical care.
"What we have in common with the rest of the UK is a crisis of health provision where the current philosophy seems to be to squeeze more and more from the same resources and to apply ever increasing pressure on the workforce.
"What I have seen over the past five years is the continuing crisis management of the longest car crash in memory - and it is time for our politicians to face up to some very hard questions."
He said that while people in Scotland were facing a "crucial vote" on independence, they had a far greater decision to make - how much tax they wanted to pay to fund the NHS and how comprehensive they wanted the service to be.
Dr Keighley said the public needed to make a judgement on the balance between "convenience and clinical safety" because the current system was on the "edge of collapse".
Mr Neil said the BMA chief was right to highlight the damaging reorganisation and privatisation agenda being pursued by the UK government.
He went on to explain: "In the last seven years, we've taken important steps to improve the way our health service is run, including putting an extra 8,500 staff into our NHS, 1,133 of which are additional consultants recruited under this government - a record high and up by 31.2%.
"We've also protected the frontline NHS budget - which is set to rise to a record £11.8bn in 2015/16. Waiting times have improved substantially in recent years, even as the NHS is treating more patients than ever before."
However, Mr Neil acknowledged that the health service faced "real pressure and challenges" as it adapted to meet the demands of an ageing population.
He added: "These challenges are far from unique to Scotland and with the full powers of independence we can do even more to tackle the scandalous health inequalities between the richest and poorest parts of our society."