Olympic champion Sir Chris Hoy to be a father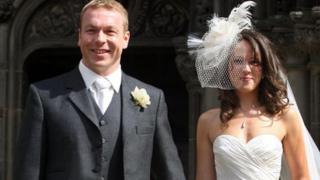 Olympic cycling champion Sir Chris Hoy and his wife Sarra are expecting their first child.
Six times gold medallist Hoy, who retired last year, told Sky News the timing could not be better.
Sir Chris, 38, who married Sarra in 2010, said he did not know how people coped with having children while they were competing.
"It's a very exciting period of my life and for me and Sarra, hopefully a wonderful experience," he said.
Sir Chris, from Edinburgh, said: "Everybody I speak to when I ask about them and their experiences about becoming a parent, they mention lack of sleep, which I'm not great with so that'll be a big challenge.
"I think maybe I'm just blindly optimistic that it's going to be great fun and dead easy. I'm sure it won't be, I'm sure there'll be lots of tough things but I'm just very excited. It all seems to have happened at the right time."
Since retiring, Sir Chris has taken up motorsport with plans to compete at the 24-hour Le Mans race in 2016, started his own bicycle company and is acting as an ambassador with various charities.