Benefit fraud and errors of £16m discovered by Audit Scotland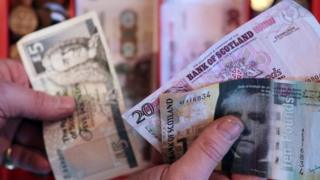 Benefit fraud and errors worth £16m, including money claimed by illegal immigrants, have been identified by the public spending watchdog.
One fraudster claimed £164,850 of housing and council tax benefit from a council while working in another area.
And an illegal immigrant was caught claiming £53,806 student support 10 years after their visa expired.
They were discovered through public bodies sharing information as part of the National Fraud Initiative (NFI).
Audit Scotland found £10.5m of fraud and errors in 2012 and 2013 and £5.5m from 2010/11.
Cases included an illegal immigrant who obtained £17,138 student support with a photocopied residence permit.
Another fraudster claimed £70,000 of housing benefit while their partner was working.
Some 1,862 housing benefit payments were stopped or reduced, leading to 92 prosecutions.
NFI investigations also stopped 2,876 disabled parking permits, 302 student housing benefit cases and 96 occupational pensions.
Public purse
Russell Frith, assistant auditor general for Scotland, said the investigations produced "a significant return to the public finances of Scotland at a time when they continue to be under pressure".
He said: "Fraud does not recognise organisational or geographic boundaries.
"The NFI has proven time and again that data sharing is an effective and efficient way to quickly identify issues for further investigation."
Scottish Conservative local government spokesman Cameron Buchanan said he believed the fraud claims were "the tip of the iceberg".
He said: "The public will be stunned that millions of pounds of wrongdoing has been detected in this way.
"There will be plenty of fraud that hasn't been uncovered.
"Those who are found guilty of defrauding the public purse should be dealt with very seriously by the courts."
A Scottish government spokesman said: "We have a zero tolerance approach to fraud and a high degree of commitment to the National Fraud Initiative.
"We are working with public bodies across Scotland to continue to improve how we protect public resources now and in the future."