Scottish university graduates 'getting jobs quicker'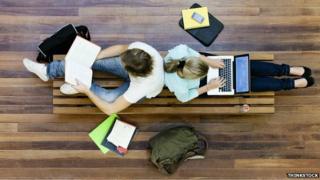 Graduates from Scottish universities have some of the best employment prospects in Britain, according to official statistics.
The figures suggest a greater number from Scottish institutions enter professional jobs quickly.
Their starting salaries are also higher than the UK average.
The figures from the Higher Education Statistics Agency also suggest a lower proportion of graduates from Scottish universities are unemployed.
The HESA figures looked at where graduates were six months after they left university.
They suggested:
91% of graduates from Scottish universities were in work or further study. (UK average 88%)
69% of those in work had professional jobs. (UK average 65%)
Their mean average starting salary was £22,500. (UK average £21,000)
Just 6% were unemployed. (UK average of 8%)
Universities Scotland said there was a 1% increase in the number going direct into positive destinations and a 1% fall in the number unemployed compared with last year.
Alastair Sim, director of Universities Scotland, said: "Scotland's universities have made employability a real priority with significant amounts of time and energy invested in employability strategies, attention paid to the development of well-rounded skill sets in our students and working closely with employers in the design and delivery of courses and the creation of work placements.
"We're very proud of our record on employability and pleased that our graduates can finish their studies confident that they have the best prospects in the UK.
"This is an important factor in student choices when it comes to applications and it's important to the economy and to Scotland's productivity that our graduates are going on to positive destinations in such numbers and into graduate-level jobs so quickly."
Education Secretary Mike Russell said: "Today's figures show that once again, graduates from Scotland's world class universities are leading the way, with more going into employment or further study than in any other part of the UK.
"This is the latest endorsement of Scottish education following ONS' recent report that revealed Scots as the best educated in Europe. That's excellent news for the Scottish economy.
"These figures demonstrate that our continued investment in graduates and in the higher education sector in Scotland is paying dividends."