Neil Lennon abuser has sentence quashed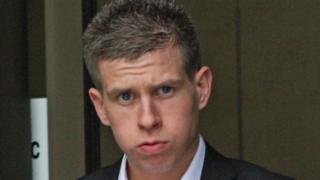 A man who urged people on Facebook to send bombs and bullets to former Celtic manager Neil Lennon has had his prison sentence quashed.
William Kilpatrick, 23, made the post from his mobile phone on the day of an Old Firm match in April 2011.
He was jailed for nine months at Stirling Sheriff Court in October 2013.
But judges at the Appeal Court in Edinburgh quashed the sentence and fined him £500 instead.
Kilpatrick, of Bannockburn, near Stirling, was granted bail after spending three weeks in jail last year.
'Ill judged'
He made the post on Facebook at the same time as bombs and bullets had been sent to Lennon and the late Paul McBride QC, a high profile Celtic supporter.
The post read: "Get mair bullets and bombs sent, boys, Glasgow Rangers Champions."
Defence advocate Claire Mitchell said the post had never "been a serious call to arms." She added: "It was an ill judged and ill informed joke."
At the Appeal Court, Ms Mitchell argued that the nine month sentence was too harsh.
The lawyer said her client regretted his actions and urged the judges to consider imposing another disposal.
The judges agreed and quashed the sentence, imposing a fine instead.