Scotland 'on course for second warmest year ever'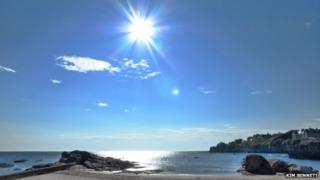 Scotland is on course for its second warmest year ever recorded, according to analysis by Friends of the Earth.
Every month in 2014 has been warmer, and four were more than 1C warmer than the 1981-2010 average, the environmental group said.
Spring has been the warmest since records began, with a mean temperature of 7.69C.
June was joint fourth warmest ever, with a mean temperature of 12.9C.
The group's analysis of Met Office data also found that February was the fifth wettest ever recorded.
The warmest year in Scotland since records began was 2006, followed by 2003, 2007, 2004 and 2005.
Friends of the Earth Scotland said Scots should "heed the warnings the weather is giving us", and called for more action to tackle climate change.
Director Dr Richard Dixon said: "Scotland's weather is showing a very clear long-term trend of increasing temperatures, just as climate change scientists predict.
"Climate change brings not just increasing global temperatures but increasingly unpredictable weather.
Emission targets
"Scotland is caught between the changing influences of disappearing Arctic ice, the shifting jet stream and a weakening Gulf Stream.
"The consequences for us are more extreme weather, bringing more flooding, storms and droughts."
World leaders have agreed to set new emission reduction targets at the UN climate conference in Paris next year.
UN Secretary General Ban Ki-Moon has organised the gathering in September to put firm proposals on the table.
Dr Dixon added: "Scotland has great ambitions on reducing climate emissions, but we need to work harder on meeting our own targets."
Seven of Scotland's 10 warmest years on record have been since 2000.
Friends of the Earth Scotland said a developing El Nino - a periodic warming of the Pacific Ocean which boosts global temperatures - could make 2014 the warmest year ever globally.
May 2014 was the planet's warmest May ever recorded, the group added.
The Scottish government's environment and climate change minister Paul Wheelhouse said: "We are already seeing evidence of Scotland's changing climate.
"Over the last few decades our climate has warmed, sea-levels have risen, rainfall patterns have changed and we have been impacted by extreme weather events.
"In recognition of the scale of the problem, Scotland has set world leading climate change targets and has set out plans to deliver them."