Civil servants stage 24-hour strike in Scotland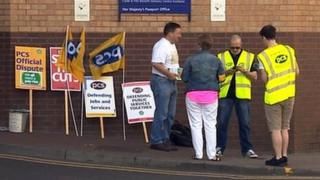 Members of the Public and Commercial Services Union are staging a 24-hour strike in Scotland over pay cuts.
Job centres, the passport office and prisons across the country have all been affected.
Civil servants are unhappy with their current deal, saying UK government pay and pension policies have cut up to 20% in real-term earnings in four years.
Driving tests were cancelled because of the closure of test centres in Peterhead, Aberdeen and Kirkcaldy.
The National Museum of Scotland and the National War Museum in Edinburgh were both closed.
The PCS said there were "very healthy" strike turnouts in HM Revenue and Customs and the Department for Work and Pensions, including 1,350 staff on strike in the Greater Glasgow DWP branch.
Glasgow passport office remained open but only for urgent inquiries.
Austerity policies
Strikes are taking place across the UK with civil servants, teachers, local government, fire and transport workers also walking out in England, Wales and Northern Ireland.
While the impact is not as large in Scotland, the PCS said 95% of its 28,000 members had walked out.
The PCS is encouraging the Scottish government to continue to move away from George Osborne's austerity policies.
A Scottish government spokesman said: "Main government and agency buildings remain open and arrangements are in place to ensure essential business continues.
"Current returns indicate that 919 Scottish government staff are taking industrial action today, representing just over 12% of the workforce."
Prime Minister David Cameron urged people to turn up for work.
Speaking during Prime Minister's Questions on Wednesday, Mr Cameron said the "time has come" for legislation setting a minimum turnout for a strike ballot, promising this in the next Conservative manifesto.
Under the current law, a strike can take place if it is backed by a simple majority of those union members who vote regardless of the level of turnout.