Sun shines on final T in the Park at Balado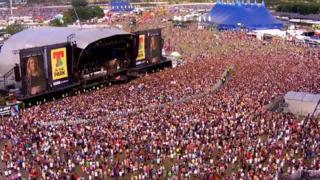 The sun shone for T in the Park revellers as the music festival started its long weekend goodbye to Balado in Kinross-shire.
Scotland's biggest music festival is moving to Strathallan Castle in Perthshire next year.
Thousands had already camped out the night before ahead of the first day of performances, with 85,000 fans expected to descend on their airfield site.
Only a handful of Sunday tickets remain for the event.
Glasgow band Chvrches, who have gone on to worldwide success since they played a small stage at last year's event, were among those relishing the conditions.
Martin Doherty told BBC Scotland: "It is kind of special it is the last year at Balado.
"It's been here for a long time, so it's good to part of that and we are really up for this tonight."
Fellow band member Iain Cook added: "We have had a pretty good run of it, weather wide at T.
"We had blistering sunshine here as well last year."
For the weekend, Balado becomes Scotland's fifth-largest town for the 21st T in the Park.
Rockers Biffy Clyro were the headliners on Friday, fellow Scot and top DJ Calvin Harris is the top name on Saturday, with English indie rockers Arctic Monkeys provide Sunday's finale.
Health and safety concerns were raised about an oil pipeline at Balado airfield had led to the planned move after 17 years on the site.
Festival director Geoff Ellis said: "This is about bye, bye Balado, an end of an era.
"Next year, Strathallan Castle, the start of a new chapter, a blank canvas, a chance to re-invigorate thee vent.
"We are looking forward to that, but it will be sad when Arctic Monkeys come off stage on Sunday.
"We are delighted that so many of our devoted T in the Park fans have turned out in force to celebrate our last year at Balado and that they will be helping us to see it out in style.
"Friday has been a phenomenal day so far and we are just really looking forward to what we know will be a brilliant weekend and the party to end all parties.'