Glasgow 2014: Bus staff get £120 Games bonus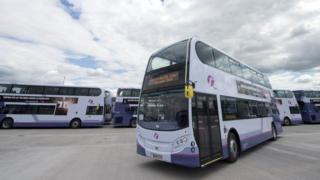 Staff at bus company First Glasgow will receive a £120 bonus for working during the Commonwealth Games.
Scotland's largest bus company has confirmed all 2,400 members of staff including drivers and office workers will receive the one-off payment.
Workers must complete all their rostered shifts as usual until the end of the Games to claim the bonus.
Managing director Fiona Kerr said: "This is a thank you for their hard work and continued commitment."
She added: "First is a proud sponsor of Glasgow 2014 and we're looking forward to ensuring that our bus services play a major role in what promises to be the most spectacular and successful event our city has ever hosted."
Unite union convenor Mick Dowds said: "This payment shows a clear recognition by First Glasgow of the commitment and dedication of the whole workforce to delivering a successful Games."
Road patrols
Meanwhile, support for stranded drivers has been "significantly increased" to cope with demand during the Games.
Scotland TranServ is strengthening the Trunk Road Incident Support Service (TRISS) provision of patrols and help for drivers who get into difficulties.
The service will operate on a 24-hours-a-day basis with extra staff in Glasgow and the central belt.
Transport minister Keith Brown said: "All motorists, whether local drivers or Games spectators, can be confident that increased numbers on the road network during Glasgow 2014 will not affect their access to assistance should the need arise."