Torness nuclear reactor has 'unplanned outage'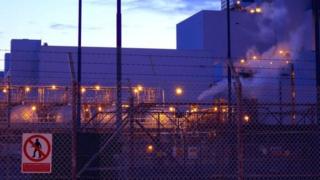 A nuclear reactor at the Torness power station in East Lothian has gone offline in an unplanned outage, its operator has said.
EDF Energy said the 640MW Torness 1 reactor went offline at 13:56 on Monday.
The unit was expected to remain unavailable until 13:30 on 21 July, the firm said.
Torness station director Paul Winkle said there were "no safety, health or environmental impacts".
It is understood station managers switched the reactor off after an alarm went off during testing.
In a message posted on the Torness website, Mr Winkle said: "During testing of the reactor protection system, reactor one automatically shut down. We test this system, which is very sensitive, on a regular basis to prove the reactor will always shut down when required.
"As usual, our operations team took prompt action, putting safety first. Cooling to the reactor was maintained at all times and there were no safety, health or environmental impacts.
"The reactor will be returned to power as soon as testing is satisfactorily completed."
Torness, which has two nuclear reactors, provides enough electricity to power more than a million homes across Scotland, according to the company.
Earlier this month, the same reactor was taken offline for a week while an electrical fault was investigated.
The fault was detected in the conventional plant on 1 July, with the nuclear reactor taken offline as a precaution. It reopened seven days later.
EDF said at the time that there had been no danger to the public.
Last year, both Torness nuclear reactors were taken offline after seaweed threatened to clog their systems.