Dying patients 'bewildered by array of services'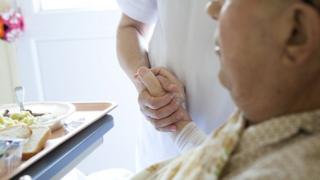 People who are dying and have a range of illnesses face a bewildering array of services, according to research by the University of Edinburgh.
The study into multimorbidity - several illnesses at the same time - found care for patients in Scotland and England "is not joined up".
Researchers carried out interviews with 37 people suffering from multimorbidity and 17 family members.
They described complicated, confusing and sometimes unresponsive services.
Medication was frequently changed and often resulted in a hospital admission, making them question the purpose of the change.
The findings are contained in a report for the BMJ journal Supportive and Palliative Care.
Multimorbidity is increasingly common in the last year of life but is associated with frequent hospital admissions.
'Change of culture'
The patients who took part in the study were aged between 55 and 92, and 23 of them were men.
They had several illnesses including heart, respiratory, liver and kidney failure, lung cancer, neurological conditions and mild dementia.
The authors said a change of culture was required, especially as more people will spend more years living with a range of serious illnesses.
"We need to encourage proactive care, while at the same time helping to maintain a sense of identity as a 'normal' old person," they said.
This would enable them to "live well while planning for the inevitable future deterioration in their health."
The report added: "More and more of us will face many years of living with multimorbidity. The challenge is to make those years as healthy as possible,"