Figures reveal bed occupancy rates in Scottish hospitals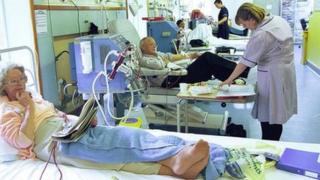 Wards in many of Scotland's hospitals consistently have higher than recommended occupancy rates, according to data obtained by BBC Scotland.
The data suggests a lack of medical beds in many Scottish hospitals means patients may have to be moved - or "boarded" - to other wards.
BBC Scotland calculated occupancy rates as high as 133% in some hospitals as beds were borrowed from other wards.
Scotland's Health Secretary Alex Neil strongly disputed the BBC figures.
Research had previously indicated that bed occupancy rates of over 85% increase the risk of harm to patients.
However, the analysis by BBC Scotland shows that many of Scotland's hospitals exceeded these levels on a regular basis between January 2013 and March 2014.
---
You can explore the occupancy rate data for your own health board using the SEARCHABLE DATABASE developed by BBC Scotland.
---
Earlier this year the outgoing president of the Royal College of Physicians of Edinburgh, Dr Neil Dewhurst, said evidence had shown that 85% was "the maximum safe level at which we can treat patients".
Ellen Hudson, associate director of the Royal College of Nursing in Scotland, told BBC Scotland high occupancy rates can lead to patient harm.
"It's really not good for patient care especially if you've got older patients who maybe have dementia - they can get really disoriented and very distressed.
"They're coming into hospital and they're unwell.
"They need to be cared for in the right place with the staff that have the skills to deal with their condition."
Bed occupancy rates regularly exceeded that level in most of Glasgow's and Edinburgh's large hospitals; Borders General Hospital; Queen Margaret Hospital in Dunfermline; the Royal Alexandra in Paisley; Hairmyres Hospital in Lanarkshire; Inverclyde Royal Infirmary in Greenock; and Victoria Hospital in Dundee.
The lack of beds in medical wards at Inverclyde Royal Hospital in Greenock led to an occupancy rate of 133% in April 2013. Similarly, West Glasgow Hospitals had an occupancy rate of 119% in January 2013.
However, Mr Neil told BBC Radio Scotland's Good Morning Scotland programme that some of the figures "were not true".
He said: "For example, the BBC is claiming an occupancy rate in Inverclyde of 133%. According to Greater Glasgow and Clyde, that is absolutely not true and is 35% more than the maximum occupancy rate in that hospital during the period covered.
"If there had been 133% occupancy rate that would have meant, at midnight, when these things are calculated, there would have been 33 people sitting on chairs and trolleys - now that just never happens."
Borrowed beds
In University Hospital Ayr, approximately 23% of patients in January 2013 were placed in "borrowed" beds - beds meant for patients in other specialised medical or surgical wards.
Historically, high occupancy rates and the practice of boarding have been most common in winter months but this data - obtained through Freedom of Information requests - suggests this is no longer the case. In Ayr hospital, 18% of patients were in borrowed beds in August 2013.
The findings appear to corroborate a 2012 Royal College of Physicians of Edinburgh survey in which 80% of respondents said boarding was now being experienced year-round in Scottish hospitals.
The Scottish government and NHS Greater Glasgow and Clyde said they did not recognise some of the figures relating to Inverclyde Royal and West Glasgow Hospitals.
The health board said information from different systems meant it was not possible to make a straight comparison.
A Scottish government spokesman said a new bed management tool was being introduced to support a consistent and systematic approach.
He added: "While we recognise that peaks in demand may require some beds to be used flexibly at times, we want to ensure that all NHS boards are managing their capacity effectively throughout the year for the benefit of their patients.
"This includes flexibility to open extra beds in specialities experiencing high demand in a managed and clinically effective way."
Former NHS information analyst Neil Pettinger said higher occupancy rates generally led to boarding.
"To operate at a humane level - unless you want patients lying on a trolley waiting for a bed - you have to have your occupancy at a low enough level," he said.
Occupancy rates
Mr Pettinger, now a freelance consultant, said high occupancy rates and boarding could also lead to a longer length of stay for patients, a higher propensity for readmission, and a number of logistical headaches.
"When you have medical patients sprinkled liberally throughout the hospital [and not in the specialised ward where they should be] you get this phenomenon which we refer to as 'safari ward rounds', where two-hour rounds can take up to four-and-a-half hours."
He added that high occupancy rates and the associated issue of boarding were not a modern phenomenon.
"My first encounter with patients being boarded was nearly 25 years ago," he said.
"Nothing's really changed since then and we're still doing it, even though we know it's a problem - I wonder whether culturally it's just become accepted."
However, Mr Pettinger warned that the 85% figure, which has been adopted as the safe maximum occupancy level, should be treated with caution.
"What you really need to be doing is sizing each individual component of the system," he said.
He said each hospital and each ward should be assessed individually due to their differing capacities, number of specialty wards like paediatrics where beds cannot be lent out, and different levels of demand.
A hospital with an occupancy rate of over 90% could in theory still operate efficiently, added Mr Pettinger.
The effects of overcrowded wards are illustrated in some of the comments posted on Patient Opinion, a website endorsed by the Scottish government which allows patients to describe their experiences of the NHS.
Colin Angus described how his sister-in-law, admitted for a broken arm, was repeatedly moved around Wishaw hospital.
"She was moved from ward to ward, from bed to bed - she was totally confused," said Mr Angus of his relative, who is in her 80s.
"I think that definitely delayed her improvement."
'Paying attention'
One other poster to the site, a teenager, described being put in an adult mental health ward in Crosshouse Hospital, along with another child. They should have been in an adolescent unit.
Professor Derek Bell, president of the Royal College of Physicians of Edinburgh, says Scotland is not alone in facing the associated issues of high occupancy rates and boarding.
"Boarding is an international problem - I've visited other countries like Australia and boarding also happens there. It's just part of what we do, and we know it isn't right," he said.
"I think that in some senses Scotland is ahead of the game in the sense that it has recognised the problem.
"People are looking at this, people are paying attention to it, and that means it's likely we're going to make a difference."
BBC Scotland did also obtain data for the same period regarding surgery cancellations due to the lack of surgical beds, but Mr Pettinger warned against drawing any links between high occupancy rates and these figures.
One of Scotland's busiest health boards, NHS Grampian, refused to provide the data requested, acknowledging its bed data contained inaccuracies.