Fewer individuals in Scotland facing insolvency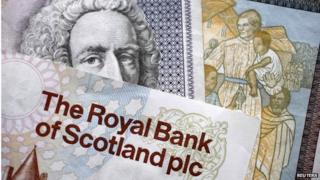 The number of recorded personal insolvencies has reached its lowest level in nearly a decade, according to official figures.
The Scottish government said more people were using its debt payment programmes to manage their finances.
Enterprise Minister Fergus Ewing described the figures as "encouraging".
However, the figures also showed a rise in corporate insolvencies, with 250 Scottish firms failing in the second quarter of 2014.
The official statistics published by the Accountant in Bankruptcy (AiB) showed a 25.8% decrease in the number of personal insolvencies from the same quarter the previous year.
The recorded number of personal insolvencies, including both bankruptcies and protected trust deeds (PTDs), are now at their lowest recorded level since the first quarter of 2005-06.
PTDs have fallen in popularity as Scots take advantage of government debt payment programmes (DPPs), which allow people to pay off their debt over a longer period rather than transfer their estate to a trustee to avoid bankruptcy, as is necessary under a PTD.
The number of PTDs issued was down two-fifths in the first quarter of 2014-15, while 1,261 of the government's DPPs were approved in the same period.
Enterprise Minister Fergus Ewing welcomed the figures.
He said: "A total of £8.6m has been repaid through DPP this quarter. This figure is particularly encouraging as the Scottish government continues to work towards creating 'Scotland's Financial Health Service', with DPP being one of the first building blocks towards creating that.
"This demonstrates that Scotland is capable of administering personal insolvency to ensure that the needs of creditors and businesses is balanced with the needs of debtors.
"We can ensure that those burdened with debt can access the debt relief they need and those who are able to pay, do so."
In contrast there was a 2.5% increase in in the number of Scottish-registered companies becoming insolvent or entering receivership compared with the previous quarter.
This relates to an additional six companies falling into difficulty, and marks a year-on-year increase of 35.9%.
Yvonne Brady, head of corporate restructuring at law firm HBJ Gateley, said: "A modest rise in corporate insolvencies is to be expected as part of an ongoing economic recovery.
"As fiscal and other economic activity increases, businesses which are not strong enough to begin trading more robustly will fold as part of a normal process of post-recession consolidation.
"This is in fact a positive sign that the market is 're-shuffling' and preparing for a new growth phase.
"Weaker companies will be forced to close while stronger ones will fill the gaps left in the market by these exits."