Glasgow 2014: 'Biggest weekend in city history'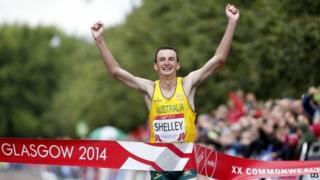 Thousands of people lined Glasgow's streets to watch the Commonwealth Games marathon in the "biggest spectator weekend in the city's history".
Australia's Mike Shelley sprinted to the finish line to win the men's event in 2 hours 11 minutes and 15 seconds.
Kenya's Flomena Cheyech Daniel took the women's gold medal, ahead of fellow Kenyan Caroline Kilel.
Organisers say 350,000 tickets for this weekend - not including free events - have been sold.
Glasgow 2014 chief executive David Grevemberg said: "It will be one of the busiest weekends in its history.
"We have well over 180,000 tickets out there."
About 280,000 people were expected in the city on Saturday as events took place at eight different venues, as well as the Barry Buddon Shooting Centre in Carnoustie.
Mr Grevemberg predicted that Sunday could be even busier on marathon day.
"It is going to be absolutely huge," he said. "In the streets and with all the Festival 2014 activity at Glasgow Green and Kelvingrove Park and marathon, it is going to be absolutely buzzing."
On Saturday, there were reports of delays at the park and ride facility at Eurocentral, one of the sites being used by thousands of spectators, with people venting their anger on social media as they were waiting for special buses.
Mr Grevemberg, though, said that the overwhelming response from the public was positive but warned the public to be especially aware of travel disruption resulting from the marathon being run in the south side of the city.
"What we've said all along is plan, plan, plan," he said. "Listen to all the public broadcasting and all the messages about transportation and arrive at venues early to get through the security checks."
Mr Grevemberg stressed that the public should check the various information lines and websites for details of how routes will be changed to cater for the marathon.
"Between early morning and mid-afternoon, people really need to pay attention to the marathon route and where that may impact their travel," he said.
Day four highlights at the Games
Marathon: Glasgow's marathon route involves two laps through Merchant City, George Square and Buchanan Street as well as Bellahouston and Pollok Park, crossing the River Clyde four times.
Athletics, Hampden Park: It is day one of the athletics, with gold medals in the men's 5,000m, without injury absentee Mo Farah, and women's para-sport long jump to be won, while the 100m heats begin.
Rugby Sevens, Ibrox Stadium: England, Scotland and Wales are in the quarter-finals, with the semi-finals and final to follow.
Swimming: Finals will be held in men's 100m free, 50m back and 4x200m free relay, women's 200m back, 50m fly, 200m medley and para-sport 100m SB9 breaststroke.
Cycling: Medals will be given after the finals of the men's keirin and scratch race, women's sprint, points race and para-sport 1,000m time trial B tandem.
Lawn bowls, Kelvingrove: Gold will be decided in women's singles and fours.
Table tennis: The women's team event will be concluded.
Weightlifting: Women's 63kg and men's 77kg medals will be decided.
Shooting, Carnoustie: Medals will be decided in men's and women's double trap events.