Did Usain Bolt watch Scotland play netball?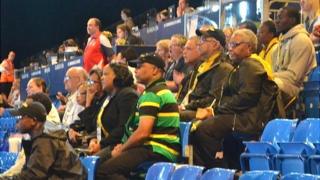 A tall, muscular Jamaican sprinter quietly slipped into Glasgow's SECC to watch his national team play Scotland at netball. Had Usain Bolt kept to his word?
A day earlier at a packed press conference, Bolt had said he wouldn't have much on during his week-long stay in Glasgow.
The world's fastest man is only running in the 4x100m relay at the Commonwealth Games.
When asked what he might do, he told the assembled media: "I would love to see the Jamaican netball team play - definitely."
The following day, needless to say, the press area at the side of the netball court was busy.
The president of the Jamaica Netball Association, Marva Bernard, was hopeful.
"He says he's going to come. So we're hoping he will come," she said.
There was a flurry of excitement among volunteer Clydesiders when a 6ft-plus Jamaican athlete appeared in the dark corridor behind the seating and strolled up the stairs into the VIP section.
It turned out to be Leford Green, who specialises in the 400m hurdles and 400m.
Accompanied by fellow hurdler and sprinter Danielle Williams, the pair sat in the VIP section surrounded by a who's who of Jamaican netball.
One Clydesider remained optimistic. "It's a good sign! It shows that these Jamaican athletes really do like netball," he said.
Ms Mernard said it was commonplace for athletes to come and watch netball.
"Netball is a very big deal in Jamaica," she said.
Netball Scotland's chief executive Maggie Murray who was sitting in the Scottish, and somewhat quieter, VIP area, said the Games had impacted on netball's profile in Scotland.
"There's a lot more respect for our sport," she said.
"Some of the athletes from other sports cannot believe the speed, the dynamic nature of the sport and how physical it is.
"And the public is also much more aware of netball."
Over the past two years, Scotland's netball team has transformed from an amateur squad made up of policewomen and dentists, teachers and students, who played in their spare time, to a team who can take on elite professional athletes from across the globe.
The team recently qualified for the 2015 World Championships.
Scotland scored plenty of goals during the match against Jamaica. But it wasn't enough to seriously challenge a team, which boasts the support of the world's fastest man.
Jamaica went on to beat Scotland 68-26.
Leford Green tweeted "3 in a row that's it girls. #commonwealthgames2014", along with a picture of the scoreboard.
Bolt didn't manage to see his team's triumph over the Scots - unless he chose the bizarre disguise of a Saltire morphsuit and kilt, as worn by one audience member.
More likely, Bolt just needed a bit more time to recover from his flight to Glasgow.
The press and Bolt fans will be back when netball's Reggae Girls take on Malawi on Monday evening.