Sir Jackie Stewart's first racing car fetches £42,000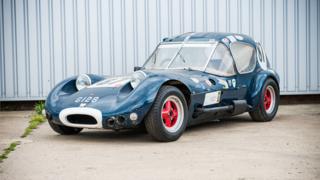 Racing legend Sir Jackie Stewart's first "proper racing car" has been sold at auction for almost £42,000.
The 1960 Marcos GT Xylon was put up for sale by Silverstone Auctions with an estimate of between £35,000 and £50,000.
The vehicle was sold in "barn find" condition, having been kept in storage since the 1990s after production ceased at the marque's Wiltshire factory.
The identity of the buyer has not be released.
Only a handful of Xylons were built by Marcos, which was founded in 1959 by racer Jem Marsh and engineer Frank Costin.
Sir Jackie came to drive the car in 1960 after he was invited to test the vehicle at Oulton Park. He went on to win several sports car races in the Xylon.
Talking to BBC Radio Scotland, Sir Jackie said: "It was the first proper, what I would call, racing car I ever drove.
"It was laminated plywood. It was very fragile but because of the plywood it was also very light.
"It was a competitive car and we won several little things with it. It was the first serious car I drove.
"I think it needs some work from what I could see."
Sir Jackie said the Xylon was "obviously less sophisticated" than later cars he drove but added: "At that time it was certainly good enough for me."