Glasgow 2014: William and Kate enjoy Commonwealth Games action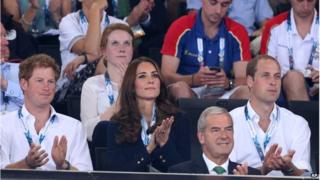 The Duke and Duchess of Cambridge and Prince Harry have been spotted enjoying the action at Glasgow 2014.
The trio took their seats just before 15:00 in the family section of the Hydro arena to watch the gymnastics.
It is the first of several sessions that William, Kate and Harry are due to attend as competition on day five of the Commonwealth Games continues.
Their arrival at the Hydro went almost unnoticed by the crowds until cameras showed them on the arena's big screens.
Spectators broke into applause as a close-up of the duke and duchess and Harry flashed up.
Among the gymnasts competing were the Welsh women's and men's teams.
The three Royals later watched Scott Fitzgerald of England win his men's welterweight boxing bout against Azumah Mohammed of Ghana.
The royal group later visited the Glasgow National Hockey Centre, where they met members of the Australian and English teams.
Prince Harry met two Australian players who were "photo-bombed" by his grandmother last week.
Jayde Taylor was posing for a photo with team-mate Brooke Peris when the Queen appeared in the background smiling over her shoulder.
The hockey player then posted the picture on Twitter, writing: "Ahhh The Queen photo-bombed our selfie!!"
Taylor said: "We asked him if he would do a selfie with us so we could add it to our collection, but he said 'I hate selfies but I will definitely do a photo with you'."
He then posed for a photo with some of the Australian and English teams.
William, Kate and Harry also watched the action at Tollcross Swimming Centre.
Before the races got under way two members of the Australian team came over and passed a yellow kangaroo mascot to William and Kate.
They took photos of the couple holding the cuddly kangaroo before reclaiming it.
The royals applauded as they watched Jazz Carlin win gold for Wales in the women's 800m freestyle final, and England's Ollie Hynd win gold in the men's 200m individual medley SM8.